Many real estate businesses have calculated anti flooding measures for next decades while building their projects unless they will be outdated, because rapid increase of immigrants together with private vehicle volume has put heavy pressure on urban traffic system in Ho Chi Minh City.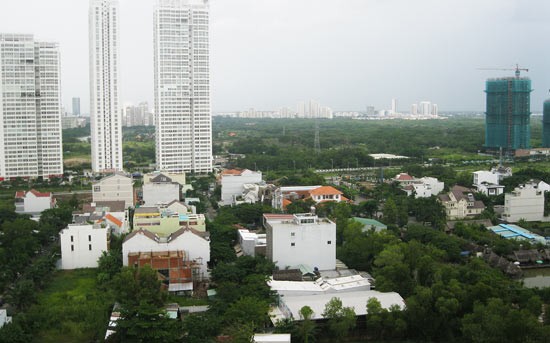 Construction density is not high in the southern part of HCMC but traffic jam has regularly occurred during peak time at entrance gateways to the city downtown (Photo: SGGP)
According to the Department of Transport, the city had about 6.4 million motorbikes and 600,000 automobiles, taking the lead in the number of motorbikes in Vietnam last year.
Vehicle volume rockets 10 percent while the rate of built or upgraded roads and bridges reaches only 2 percent a year.
Increasing immigrants and private vehicles will continue overloading urban traffic infrastructure, the department has said.
Previously, house buyers usually chose projects in the eastern and southern parts of the city because roads there were quite clear and there were many routes to reach center areas. However, they have not been like that any more.
Traffic jam has occurred everyday in the eastern entrance gateway. The condition has also taken place recently in broadened and built Hanoi Highway and Pham Van Dong street because they have been developed asynchronously with surrounding roads.
Similar condition has occurred in the Nguyen Van Linh-Nguyen Huu Tho crossroads in District 7 in the south although there are not many number of real estate projects being developed there.
Urbanism expert Dr. Nguyen Minh Hoa said that besides traffic jam, the low-lying southern and eastern areas are considered to be 'water containers' in the city, where urbanization has progressed quickly while irrigation reservoir and drainage projects have not been implemented appropriately.