Traffic gridlocks have been re-occurring in Cong Hoa and Truong Chinh Streets and becoming an obstacle in luring investors to industrial clusters in the new urban area on city's Northwest side.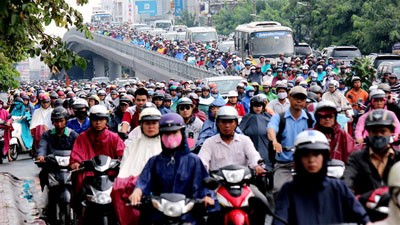 Traffic jam in the flyoverover in Cong Hoa Street (Photo: SGGP)
Traffic in Cong Hoa and Truong Chinh Streets had been improved for a while after two steel flyovers were built at Cong Hoa-Hoang Hoa Tham crossroads and Lang Cha Ca square last year. However, traffic jams have happened again in the streets.
While there are many gateways into others urban areas on the South and Northeast sides, the northwest urban area has only one entrance – Truong Chinh Street. People from districts such as Cu Chi, Go Vap, Tan Binh, Tan Phu, Binh Tan and other nearby southern provinces Tay Ninh, Binh Duong, Binh Phuoc must go through Truong Chinh Street to enter the city's downtown.
Therefore, the street has been overloaded.
A resident in street Phan Van Hon- Truong Chinh in District 12 said that it took him over 30 minutes to travel from his house to Lang Cha Ca on working days while it took only 10 minutes on Sunday.
There are some sections in Truong Chinh Street is about 60 meters wide but people have to drive their motorbikes on pavements in rush hours.
Traffic jams have not only influenced residents' lives but also hindered to lure investors to industrial clusters with total area of 9,000 ha for ten years. Mr. Nguyen Minh Hoa, dean of the Faculty of Urban Studies at the Ho Chi Minh City University of Social Sciences and Humanities said that one of impediments in calling for investment in the new satellite urban in the Northwest was traffic jams.
It is around 25 kilometer long from HCMC's downtown to Cu Chi District but it takes more than two hours to travel by cars due to regular traffic jams which hinder investors from pouring money into the new urban area, he added.
At a seminar themed " Opportunities and challenges for sustainable urban development" recently held in HCMC, experts said that total areas for traffic in HCMC account only from 1.7 percent to 2 percent of the city's total square while annual loss due to traffic jams is up to VND23 trillion ( or US$1.2 billion).
It is an urgent issue to solve traffic gridlocks soon, experts said.