Ho Chi Minh City has determined dealing with traffic jam and developing public transport to be a major action plan for over a decade and invested much fund for the program. However it has not brought results as expected.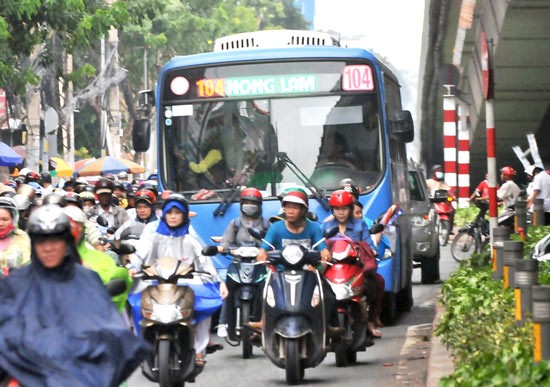 Buses in streams of motorbikes in HCMC (Photo: SGGP)
Hours long traffic jams have been recurring regardless of local authorities' efforts to divide lanes, build and broaden roads and bridges.
With the assistance of Japanese experts, the city implemented a project to build about 10 lanes for buses only to develop public transport and reduce congestion in the 2000s. The necessary of the project has been proved as buses have regularly got stuck in streams of private vehicles citywide.
The bus lane in Tran Hung Dao Street attracted a large number of passengers without any accident for five years of operation, recalled Mr. Le Trung Tinh, former head of the Transport Management Division under the Department of Transport and among officials directly implementing the program.
Nevertheless, it had been forced to stop priority to buses because of objections from households along the street and other reasons.
Without bus priority lanes, the city has permitted the vehicle to travel in motorbike lanes when they approach crossroads, where traffic jams usually occur. This aims to help them quickly escape from the congestions, but taxi cabs and private cars have sponged on buses to move into motorbike lanes too.
Two thirds of roads in HCMC measure 7 meters or less in width, which is very difficult for many types of vehicles to travel at the same time. However several private car drivers have turned on indicators to stop tens of minutes in narrow road beds.
Local authorities learnt experiences from Singapore and assigned a consultant unit to study toll collection on private cars in downtown HCMC five years ago. The move has encountered fierce protests from relevant people.
Therefore, HCMC has neither been able to develop public transport nor limit growing private vehicles and been forced to open more roads to ease the traffic jam.
 
Still, the city budget is able to meet an average of 30 percent capital demand for road construction and repair annually.
Traffic law violations
According to the Road Traffic Law, interprovincial coaches must pick up their passengers at bus stations to prevent putting more pressure on inner road system.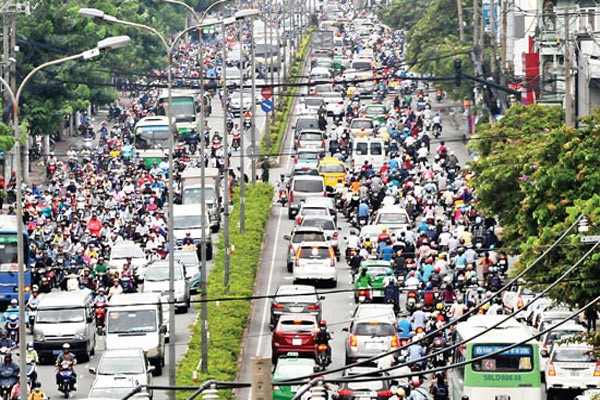 Many streets suffer a high volume of vehicles in HCMC every day (Photo: SGGP)
Many transport firms have still managed to catch passengers from their houses and along streets inner the city while authorized agencies have found do nothing to tackle the decades long issue.
A program has continuously been carried out to keep pavements clear but many have still been encroached.
People used to mistakenly think that the encroachers are only the poor, making it hard to tackle the problem. In fact, they comprise those with good economic conditions, who are owners of street-front houses using pavements for parking or selling goods.
Most of the poor have just taken advantage of pavements near schools, hospitals and government offices to do their business.
According to the Department of Transport, HCMC has about 15 million square meters of pavements. If they are not transgressed, traffic conditions will be improved for pedestrians and bus commuters who can wait for and get on busses more conveniently.
The issue has also publicly prolonged for many years, raising a question that what local authorities have done to deal with it.
Dr. Nguyen Trong Hoa, former head of the HCMC Institute for Development Studies, said that one of basic principles in urban development planning is that technical infrastructure must go ahead.
However it has been done in the reverse direction in many districts, where capital sources for traffic infrastructures have yet to be found but hundreds of buildings have sprung up, he said.
Pho Quang street in Tan Binh district is an example, traffic jams have kept blocking this route during peak time every day but construction of roadside buildings have kept going on.