Traffic violators in Ho Chi Minh City can pay penalties at any post office in the city and receive vehicle documents at home starting July 15, 2016.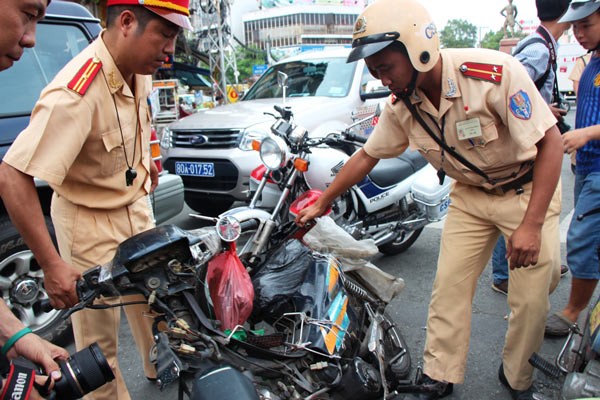 (Photo: SGGP)
The administrative reform has been implemented by the Road and Railway Traffic Police Agency (PC67) under the HCMC Police Department in coordination with the HCMC Post Office. 
According to the new service, violators no longer have to arrive at police stations to get penalty decisions and come to the State Treasury to pay fine and take back their vehicle papers. 
Fine payment can be made any place out of 145 post offices citywide and register home delivery of their sequestered papers. 
Post offices will send penalty to the State Treasury or designated banks, get penalty decisions and vehicle papers from the police agency and send them with express delivery to violators. 
Violators in the center of HCMC can receive their papers within two days since the date when post offices get them from the police agency. It is three days to those in outskirt districts and five day at the latest for violators from other provinces and cities. 
In addition, ten traffic police stations in the city will also have a post office desk. They are namely Ben Thanh, Da Phuoc, Nam Sai Gon, Tan Son Nhat, An Suong, Rach Chiec, Binh Trieu, An Lac, Cat Lai and Tay Bac. Violators can pay fine & present receipts to take their papers right at the stations. 
PC67 and the HCMC Post Office will ensure personal information security of violators in line with the law. In case vehicle papers are misplaced, the Post Office will be responsible for working with related agencies to renew them and pay all accrued costs. 
The new service help traffic violators save time and travel effort especially to those staying far away from their residence. It does not cover cases in which, violations, aggravating and mitigating circumstances are being verified, violators show signs of criminal, and police officers issue the additional penalty of driver's license revocation and vehicle seizure.