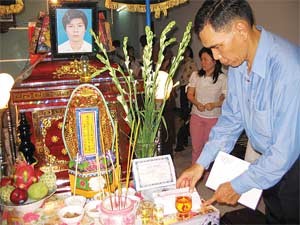 Representative of Nguyen Khuyen school offers condolences to the families of Thanh Quang, one of the accident victim.
Five students were killed and 25 others injured when a train crashed into their school bus yesterday in the southern province of Dong Nai, just 50 km from the Ho Chi Minh City.
The bus was taking 45 students of the Nguyen Khuyen high school from Ho Chi Minh City to the Giang Dien waterfall in Dong Nai province. It was crossing the railroad when it was hit by a train traveling the Sai Gon-Nha Trang route.
Five male students sitting at the back of the bus were killed immediately. Eight injured students were rushed to Thong Nhat Hospital, five of whom were transferred to Cho Ray Hospital in Ho Chi Minh City and were reported to be in critical condition. Another 17 were also injured.
Witnesses said the bus driver had apparently ignored the warning siren from the approaching train at the crossing, which had no barriers.
Upon hearing of the accident, a representative of the Vietnam Railway Corporation, owner of the train, visited and offered condolences to the victims' families.