Instead of dealing with traffic jams every day Ho Chi Minh City should broaden roads, build more bridges and develop more bus routes while planning new urban areas to avoid traffic congestion in the future, said experts at a seminar in the city on Wednesday.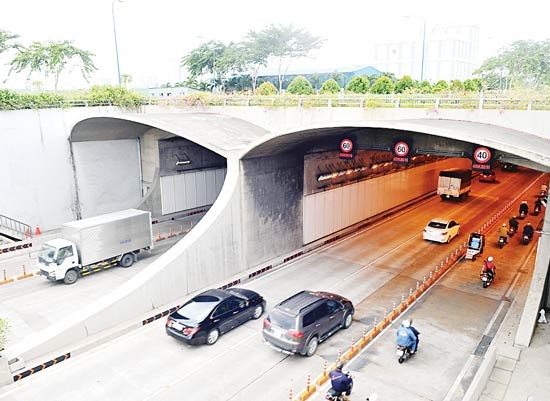 Saigon River Tunnel connects District 2 with HCMC downtown (Photo: SGGP)
Former director of the Transport Department Tran Quang Phuong said that traffic jam solutions comprise not only technical measures such as building bridges and roads and investing in buses but also synchronous urban planning and management.
According to the Department of Transport's director Bui Xuan Cuong, HCMC transport system has significantly developed for the last 40 years. Many roads had been broadened such as Nguyen Tat Thanh, Interprovincial Road 25 in Nha Be district and Road 10 in Binh Chanh district since the time of subsidized economy.
In following years, the city continued building many large roads such as North South, East West and the road along Nhieu Loc-Thi Nghe canal.
The flyover in Lang Cha Ca roundabout, Tan Binh district, HCMC (Photo: SGGP)
Despite these efforts, traffic condition has progressed worse.
Talking about reason for that, associate professor Nguyen Minh Hoa, principle of the HCMC University for Social Sciences and Humanities, said that the city has focused on developing center areas, resulting in resident density booming, without reasonable urban planning especially to the traffic system.
Satellite urban areas have developed slowly, he added.
 
Many works have been built at hundreds of billions of dong without effectiveness as expected because they have been able to solve traffic congestion at some certain areas inner the city.
Nam Ky Khoi Nghia-Nguyen Van Troi street is an example, it has been overloaded again after being broadened for some years.
The city has just solved traffic jam where it occurs not prevent it from occurring, Mr. Hoa said.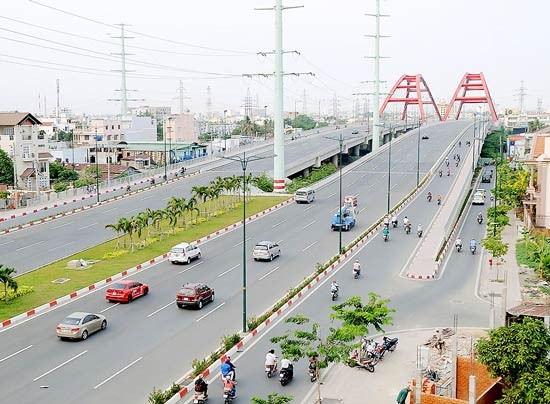 Pham Van Dong road (Photo: SGGP)
Reasonable urban development model with synchronous management and planning is an important and decisive basis to develop traffic system sustainably in the coming years, said experts at the seminar.
Associate profess Nguyen Trong Hoa, former head of the HCMC Institute for Development Studies, said that construction of Ben Thanh-Suoi Tien and Ben Thanh-Tham Luong metro routes and bus rapid transit along Vo Van Kiet boulevard is a gold opportunity for the city to do urban planning and solve traffic jam.
Specifically, these works will permit HCMC to gather residents from surrounding areas to live in buildings, making room for traffic and other public works, he explained.
 
Public transport is also an effective way to deal with traffic jam as it can transport a huge volume of passengers to reduce the number of private vehicles, he added.