Nguyen Huu Tin, deputy chairman of the People's Committee of Ho Chi Minh City on Tuesday held a working session with Dinh La Thang, Minister of Transport, to discuss measures to develop and upgrade the City's basic traffic infrastructure.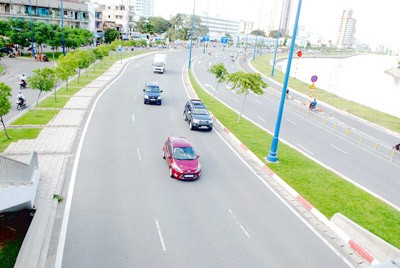 East West Highway in Ho Chi Minh City (Photo: SGGP)
Among the several measures considered was the need for the City to have autonomy on contractors, negotiating investments in urgent projects, nominating execution units and acceptance of higher bid prices than that set by the Government.
Besides this, the Government should immediately exempt or reduce import tariff on CNG buses, with the view that compressed natural gas was good for the environment.
The City also wanted removal of the Go Vap railway station to allow for better flow of traffic on the Tan Son Nhat-Binh Loi outer belt road.
 
The existing location of the railway station lies directly in the path of the belt road; hence if it is not removed, a diversion will create a bottle-neck for continuous traffic jams in future. The station can be relocated about 189m further down.
Mr. Tin also requested the ministry not to build the Hoa Hung-Tan Kien rail route that will run through the inner city areas.
 
According to the HCMC Traffic Development Plan chalked out till 2025, a new railway line is set to be built along belt road 2 all the way till Tan Kien Station in Long An Province.
Besides, metro route No. 2 will go through Hoa Hung Station and link with metro route No. 3 and 5, while other bus routes will connect with Hoa Hung and several other strategic areas in the City.
So it will not be necessary to build the Hoa Hung-Tan Kien rail route, which is planned to run through the City and will create huge losses by way of land clearance compensations, he explained.
The City suggested that the ministry remove Hoa Hung railway station to a new location about 200-300m further away. The new station can be located near Cach Mang Thang Tam Street so as to prove functional for both metro route No.2 and the national railway line.
The ministry should also build roads to link East West Highway to HCMC-Trung Luong Highway and help the city to complete belt road No.2.
Minister Thang agreed with the many proposals put forward and instructed the railway industry, who had expressed concerns over the relocation of Go Vap Station, to resolve this issue and help HCMC to smoothen traffic on the Tan Son Nhat-Binh Loi outer belt road.