Two hydrofoils running in opposite directions on the Saigon River collided November 25, sending eight people to hospital.
Dong Song Xanh Company's Greenlines hydrofoil No.10 was carrying 37 passengers including three foreigners from Ho Chi Minh City to Vung Tau when it collided with the Quang Hung Transport and Trading Joint Stock Company's Petro Express 2 hydrofoil.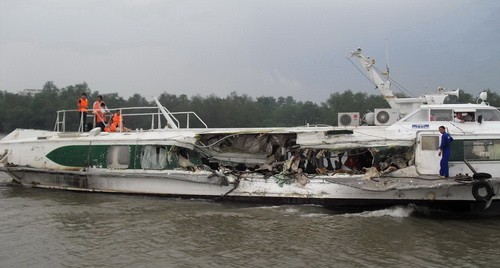 The Greenlines hydrofoil No.10 was seriously damaged after colliding with another vessel on the Saigon River November 25. (Photo: Tuoi Tre)
It is unclear how many passengers were traveling on the second boat.
All eight of the hospitalized passengers, mostly suffering hand and head injuries, were traveling on the Greenlines hydrofoil.
The accident caused serious damage to both vessels and shattered the glass doors of the Greenlines No. 10.
The department of fire and police in HCM City were called to the scene to help victims and boat crew.
The hydrofoils were then brought to the Tan Cang area for inspection and repair while authorities continue to investigate the incident.
It is not the first hydrofoil accident to occur on the Saigon River. In April, the Greenlines No.11 crashed into a marker buoy near Ben Nghe Port in the city's District 7 causing panic for 79 passengers and damage to the vessel.