HCM City lacks the money for some major public works since tax and other revenues have dried up, but Minster of Finance Vu Van Ninh has promised the city financial support.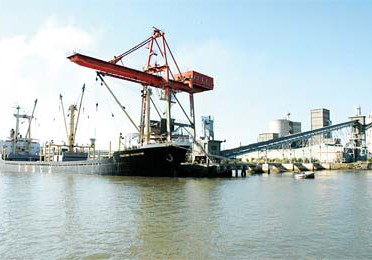 A view of the Hiep Phuoc Port Industrial Park, one of two major projects in HCMC that have stalled due to a cash crunch (Photo: SGGP)  
With revenues forecast to fall 20 percent short of the target this year, the city would face problems in funding two major projects, the Hiep Phuoc Port Industrial Park and Thu Thiem New Urban Area, People's Committee Chairman Le Hoang Quan said.
Revenues are expected to be around VND23 trillion (US$1.3 billion), including VND12 trillion from tax collection.
 
The first phase of the industrial park is complete and will open next September, but the second stage could be delayed because of lack of funds.
As for Thu Thiem, 60 percent of the compensation and site clearance work has been completed but it too needs more money to go on.
Nguyen Thi Hong, deputy chairwoman of the People's Committee, asked the finance ministry for advance payment of more than VND2 trillion the Government has announced as a bonus for the city's good performance in tax collection last year.
The city also sought an advance on the city's annual fund allocation from the Treasury to cover the costs on the two projects.
Minister of Finance Vu Van Ninh visited the project sites on March 25 before agreeing to the city's requests.
The ministry would also advance VND3 trillion from the State budget, he promised.
Besides, the Government would issue bonds worth VND22 trillion to provide the city more funds, he said.