Besides the noisiness of many real estate projects in Ho Chi Minh City, local market has seen an as noisy as corner of spontaneous and illegal residential areas which suit the affordability of a lot of citizens.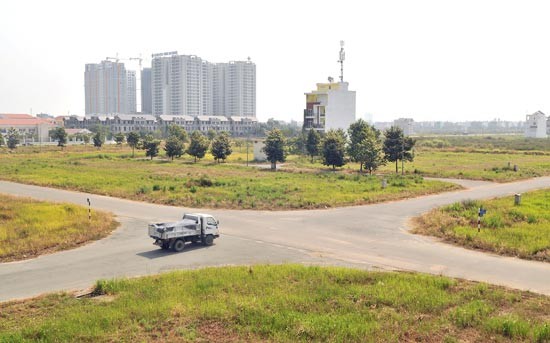 Housing land prices in planned residential areas are rather high compared to income level of many citizens in HCMC (Photo: SGGP)
Without advertisements on the media, unprompted residential areas and illegally separated land plots have been consumed in huge quantity.
 
Market research companies have entirely forgotten this field while estimating the city's real estate market.
 
However projects by real estate businesses have accounted for over 10 percent of the city's housing market share while the rarely mentioned field has met the large demand of residents, according to Dr. Huynh The Du, director of Fulbright program under the HCMC Economics University, who has many years studied the city's urban development process.
 
That is not because real estate companies could not increase supplies but their products have exceeded the affordability of most citizens, he explained.
 
Residential areas in outskirt districts have majorly been developed in the following process. People buy land and build houses spontaneously and illegally. After seeing residents concentrate crowdedly in these areas, authorized agencies invest in building roads, sluice system, water and electricity infrastructures.
 
Many large residential areas only have small and zigzag roads. Urban development has been like 'oil slick' partly because of such house building, he added.
 
Being aware of the issue, HCMC has developed many low cost housing programs to limit spontaneous housing construction. Three years ago, it determined to dismantle hundreds of illegal houses in Binh Chanh, Hoc Mon and Tan Phu districts.
 
Still their efforts have seemed not to bring results as expected because the price of land and houses in these programs has been beyond the affordability of the great majority of citizens.
 
Despite much reducing, the prices offered by many real estate companies are 2-5 times higher than that of illegal products now.
 
Many products in the northwest of the city are estimated to have cheap prices, swinging VND2-4.5 million (US$90-202) per square meter. It is even lower for the same products in nearby areas with VND1-2 million per square meter.
 
The difference is because real estate companies have to complete their projects' technical and social infrastructure systems which spontaneous residential areas almost do not have.
 
Absolutely no residents want to buy houses or lands in areas without infrastructures. However financial limitations have not given them many choices.
 
Living in HCMC for 15 years, Ms. Tran Thi Thu Nga's four member family has to live in a 40 square meter house in District 8 with her parents and two siblings.
 
After many years of desperately seeking land in projects by real estate companies, she and her husband decided to buy an illegally built house in Hoc Mon the last Tet holiday.
 
The house measuring 40 square meters locates in a garden, which owner has sold to a trader.
 
The trader illicitly divided the land pierce into many lots and built houses for sales without any legal documents except a land use certificate or red book for the entire garden.
 
Ms. Nga said that she was aware of risks from such trades but she had no choice with only VND500 million (US$22,405), which is insufficient for a land lot of the same area in legal projects.
 
Her and husband's salary totals VND15 million (US$672) a month which must been spend on living costs and school fees for two children and contributing to assist her parents.
 
Housing demand is a vital need of many residents, especially Vietnamese who have been in the long thought of "A rolling stone gathers no moss". So many have managed to buy a house legal or illegally.
 
Two sides of the HCMC real estate market seemed to be unrelated but they in fact had a tight connection, said deputy dead of the HCMC Development Studies Institute Hoang Minh Tri.
 
Authorized agencies must clearly understand that connection to use land effectively and develop the city sustainably in accordance with plan, he said.
 
They should have measures to develop projects with prices suitable with most residents' affordability, he added.