Britain will help develop Ho Chi Minh City into an important regional financial centre, visiting London mayor, Ian Luder, said at a meeting with the HCMC Development Steering Committee on July 6.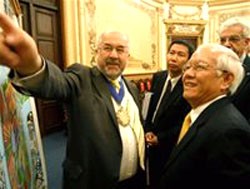 HCM City chairman Le Hoang Quan (R) and the mayor of the city of London, Ian Luder, talk about a financial center proposed in District 2 on July 6 (Photo: Saigontimes)
Later the same day he suggested to the chairman of the city People's Committee, Le Hoang Quan, Lord Mayor to set up a working group comprising representatives of British companies based in Vietnam and the city's financial advisors to promptly set up financial projects approved by the two sides during the visit.
Difficulties pertaining to investment in infrastructure projects could be resolved through flexible public-private cooperation, he said.
Mr. Quan briefed the guests about the city's plan to set up a financial centre at the Thu Thiem Urban Area in District 2.
He hoped HCMC would become a hub for joint infrastructure projects like railways, roads, hospitals, and schools by the two sides.
He also promised strong support for a UK proposal to set up a school in the city to train financial experts and accountants.
Speaking to the media, Mr.Luder said British companies' resolve to establish a long-term relationship with HCMC has not wavered despite the economic crisis.
The effectiveness of cooperation between the two sides has been proven by the licensing of two UK banks -- HSBC and Standard Chartered -- to operate in Vietnam, he said.
Building transport facilities connecting HCMC's new financial centre with the administrative area is essential to attract international investors and experts.
This is the second visit to Vietnam by a London mayor in recent years after John Stuttart visited in 2007.