Taking advantage of a booming travel demand ahead of the Tet holidays, several coaches have been found illegally parking and picking up passengers at unauthorized stops outside bus stations and along highways on various routes across the country.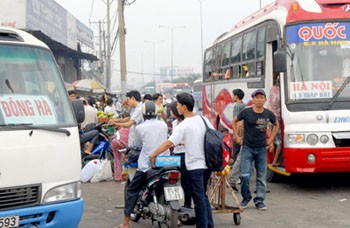 Buses picking up passengers from unauthorized stops on Highway 1A in HCMC (Photo: SGGP)
They usually park close to petrol stations and vacant spots to catch passengers who are desperate to travel to their hometowns.
Inspectors from the Department of Transport in Ho Chi Minh City have penalised tens of buses for picking up passengers at unauthorized stops along Highways 13, 1A and 22 on Wednesday alone.
 
Over the last few days tens of mini-vans have been seen squabbling to pick up as many passengers as possible near Hoa Cam Flyover in the central city of Da Nang.
The same condition has been occurring at Hue Crossroads in Da Nang City, Tra Khuc and Ve Bridges in Quang Ngai Province, and Ho Le Crossroads and Ganh Bridge in Binh Dinh Province.
They usually ply over shorter routes on normal days but now are willing to serve people wanting to travel as far as Ho Chi Minh City.
Whenever they see a passenger, the driver's assistant tries to persuade passengers to get onto the bus.
Most of the coaches have increased the fares, for instance Da Nang-Qui Nhon fare jumped from VND120,000 to 300,000 per trip per person, the fare on Da Nang- Quang Ngai route also rocketed from VND50,000 to over VND100,000.
Right after getting on board and being notified about the exorbitant fare, some passengers protested and asked to get off, but driver's assistants threatened and forced them to pay for the short stretch they had traveled, extracting nearly half the fare.
Many16-seater minivans on the Da Nang –Qui Nhon route were found full of passengers but still continued to pick up more, stuffing the vehicle beyond its seating capacity. Worse, some of them even resold passengers to other coaches and continued to catch travelers on longer routes to Khanh Hoa, Phu Yen, Gia Lai Provinces.