The country is facing a challenge of more and more obese children in big cities such as Hanoi and Ho Chi Minh City.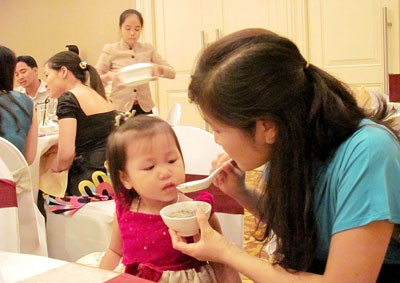 Parents should pay attention to a balanced meal for children (Photo: SGGP)
As living condition is improved, more children are taken care carefully and as a result, many of them are obese with 11.5 percent under age five and nearly 30 percent of high school students.

They eat improper meal with more meat than vegetable and fruit.

As per the city Nutrition Center's study of dietary characteristics of 360 students of junior schools Ho Thi Ky in District 10 and Phu Hoa Dong in Cu Chi District, it showed that the average protein intake of children was more than 160 per cent higher than the recommended daily allowance of 50 gram set by the nutrition center's warning.

Dr. Do Thi Ngoc Diep, director of the center, said consumption of too much meat can lead to health risks like gout and lipid disorder in the blood. The Ministry of Health said a junior high school student should eat 200 -300 gram vegetable everyday. In reality, they eat less the proposed level.

Professor Le Thi Hop from the Vietnam Nutrition Association said that Vietnamese obese children are on the rise, especially in major cities such as Hanoi and Ho Chi Minh City.
The rate of obese children under age five in the city has increased three times from 3.7 percent in 2000 to 11.5 percent in 2013 while the rate of high school students has increased double from 11.6 percent in 2002 to 21.9 percent in 2009.

Research showed that the main cause is diets high in fat and protein, but low in vitamins and micronutrients. A lack of exercise is also to blame. Accordingly, three out of 10 adult and high school student are overweighing.

Most of obese children come from rich families as per a study of Mai Thi My Thien from the city Nutrition Center

Obesity is a leading cause of chronic diseases including diabetes, cardiovascular, cancer and blood pressure problem. Medical experts fretted because the obesity among children increased for years owning to unbalanced nutrition as well as lack of exercise among students and adult.

Dr. Tang Kim Hong from Pham Ngoc Thach Medicine University said that secondary students who usually watch television and play games over three hours a day will be in high risk of obesity than their counterparts who do not. Children often take exercise and eat fruits, vegetables will not be obese.

In a latest study of the Nutrition Division of Children Hospital No.1, it showed that over 300 children of two year old have been examined in the hospital, half of them suffered fat in liver.

In modern lifestyle, children lack exercise and consume too much meat leading to obesity, but, they are still in fact malnourished due to lack of iron and iodine, said Dr Diep.