The backlog of unlicensed construction projects that the city has yet to take action against is now over 11,000, according to the Ho Chi Minh City Construction Department.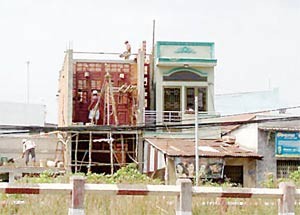 A house built with no license in Thu Duc District, HCMC

Most of this illegal construction is in suburban areas such as the Hoc Mon, Thu Duc, Binh Tan and Binh Chanh Districts. Ineffective enforcement and lack of respect for the law are considered two main causes.

Complicated paper work and the slow pace of urban development have made it more difficult for residents to obtain a construction license.

As a result, unlicensed construction projects have become more common, resulting in serious consequences for the city's urban plan.

A decree issued on December 7 states that all unlicensed projects constructed after July 1, 2004 will be subjected to appropriate penalties in accordance with the construction laws. There are over 11,000 illegally-built houses to be dealt with. Some of them may be torn down.

The city's Construction Department and People's Committee are considering measures to deal with those 11,000 houses.

Unlicensed projects built before July 1, 2004 may be allowed to remain if they do not create an obstacle to the city's urban development plans, according to a decision of the People's Committee issued on December 1, 2005.

Many local officials said that although this decision does improve respect for the law, it will give thousands of families a chance to settle down and get on with their lives.