Ho Chi Minh City in 2009 saw just a few achievements in its urban civilization efforts while public awareness of the issue remains low, said the city People's Council Chairwoman Pham Phuong Thao.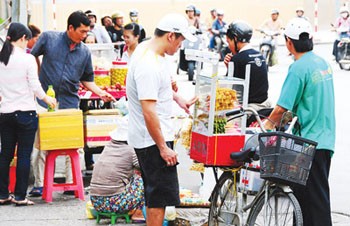 HCMC vendors who illegally take up space on public pavement are undeterred by low fines. Experts say this is part of the reason why recent urban civilization campaigns have not seen better success. (Photo: SGGP)
She was speaking at a conference held by the city People's Committee to analyze the success of urban civilization campaigns in 2009 and discuss measures for improvement in 2010.
Reporting some of the few achievements of the past year, the District 3 People's Committee said that since July it had changed garbage collection and transport times to 6:30pm-10pm, which reduced foul smells and traffic jams on streets during the day.
District 5, meanwhile, held urban civilization competitions to foster better public awareness of what citizens could do to improve their city.
Tan Binh District's Ward 11 cracked down on illegal advertising by removing ad posters from public walls and electrical poles.
Indifference blamed for poor outcome
Deputy Chairman of the city People's Committee Hua Ngoc Thuan agreed that a lack of concern by both officials and the public, and penalties that are too low to deter by-law violations, are responsible for the poor results of urban civilization efforts.
For instance, after paying just a small fine for taking up road or sidewalk space, city vendors usually return immediately after authorities leave.
To achieve widespread urban civilization, better public awareness campaigns and more feasible solutions are needed, but so far, the city has failed, said Dr. Nguyen Huu Nguyen.
Proposals for improved policies and measures often end up on the desks of residential-group leaders and remain there, Dr. Nguyen added.
City authorities usually send instructions, resolutions and documents to the leaders, but how these policies are publicized and carried out depends entirely on the group leaders.
Meanwhile, when meetings of residential groups are held, many homeowners are often absent or simply send their housekeepers to attend.
Better communication with residents about the importance of the issue is thus needed, Dr. Nguyen said.
Green, clean and beautiful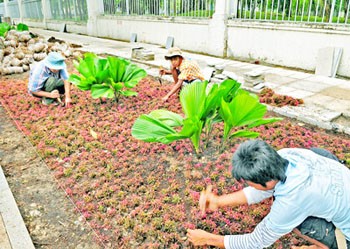 As part of efforts to beautify HCMC, workers plant flowers in urban areas (Photo: SGGP)
HCMC in 2010 will conduct the campaign "2010 – Year of Urban Civilization" with four main components: obeying traffic laws; improving food hygiene and environmental protection; communicating and behaving in a civil manner in public areas; and building a green, clean and beautiful city.
HCMC should also issue specific and feasible solutions which will attract the participation of more residents, said Dr. Nguyen.
To make the city more civilized, he suggested developing a comprehensive plan for the city's development, paving and cleaning more roads, and creating more parks and flower gardens.
A representative from the Department of Environment Protection said HCMC should specify measures to improve environmental protection regularly, build more public toilets, install more rubbish bins in public areas, and tighten control on animals wandering the streets.
Doctor and Associate Professor Nguyen Minh Hoa from the HCMC University of Social Sciences and Humanities proposed the city hold a referendum to select measures suggested by residents for building a civilized city.
The measures would be discussed with experts before submitting them to the city People's Committee for approval. Relevant authorities would then widely publicize the information and promulgate strict penalties for violations.
Campaigns should also be periodically reviewed to improve efforts in the future, said Mr. Hoa.
The city People's Council Chairwoman Pham Phuong Thao further proposed the city stamp out "uncivilized" activities on streets like the dumping of garbage and wastewater, vendor-encroachment on sidewalks, and noisy advertisements.
Other behavior like using foul language, operating motorcycles on sidewalks, and reckless driving should also be squelched, she said.