The US Trade and Development Agency (USTDA) on Sep. 1 presented to the Saigon Water Supply Corporation (Sawaco) a grant that will support efforts to protect the Saigon and Dong Nai river systems, the main water resource of Ho Chi Minh City.
The US Consul General in HCMC, Kenneth J. Fairfax, and Sawaco general director Tran Dinh Phu signed the US$501,377 grant agreement.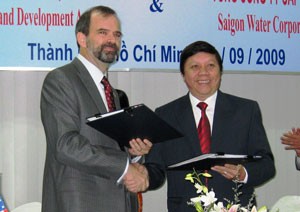 US Consul General Kenneth Fairfax (L) and Sawaco general director Tran Dinh Phu shake hands after signing the grant agreement Sep. 1 (Photo: Dai Nghia)
The funding will also help improve the health and living conditions of the surrounding communities.
Following the signing, developing a cost-effective method will be developed to treat and dispose of sludge at Sawaco water treatment plants located in the city.
USTDA said in a statement issued the same day that the implementation of the funding "will create opportunities for the export of US goods and services."
Consul General Fairfax said, "The study funded by the USTDA grant will provide Sawaco with a world-class solution to the treatment and safe disposal of sludge."
Sawaco is a State-run entity responsible for operating major water treatment plants and other facilities to provide water to people in HCMC. The Saigon and Dong Nai rivers are the main water resource for the business.
USTDA said in its statement that Sawaco selected Camp, Dresser & McKee Inc. (CDM) of Cambridge, Massachusetts, to provide the USTDA-funded assistance. CDM will provide additional resources toward the study's completion.