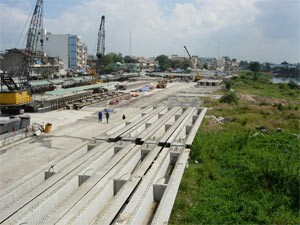 Building the District 8 section of the East-West Boulevard (Photo: Hoang Uy)
State-funded construction projects in Ho Chi Minh City annually absorb between US$625 million and US$750 million. Yet despite the massive funding, plenty of them are proceeding barely at all, and the fault lies with poor management.
The ability of local-level authorities to manage infrastructure projects is limited to say the least; some of them do not even know how many projects are underway in the areas under their jurisdiction.
In addition, updating and exchanging information between project management units is slow and lop-sided, making it hard for the city's leaders to keep track of progress.
To counter this, the Department of Planning and Investment has submitted a proposal to the Ho Chi Minh City People's Committee to apply IT in project management.
"Ho Chi Minh City's government really wants to improve the management of basic construction projects. IT applications can provide constantly updated information on the progress of these projects, enabling the city's leaders to keep a close eye on them. Thus they could deliver timely instructions and prevent any wasting of State funds," said the department's director, Thai Van Re.
He added that the information could be made public so the city's residents could see where the money was going.
However, he warned, some government agencies were averse to the idea since it would show how they were spending State funds and could prove embarrassing.
According to Mr. Re, the Ho Chi Minh City People's Committee will instruct these agencies to support his department's proposal anyway.