Deputy Prime Minister Hoang Trung Hai has approved the State Bank of Vietnam (SBV)'s proposal on negotiating with the Asian Development Bank on agreements and related documents for a project to build the second metro route in Ho Chi Minh City.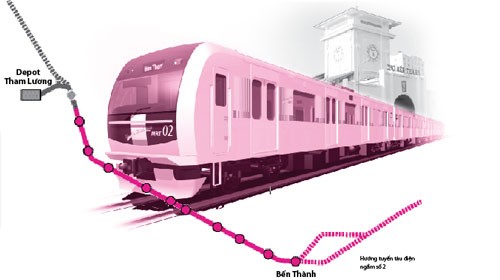 The metro route N.1 links the center station of Ben Thanh with suburban District 12 in HCM City
The agreements to be put on table will include the framework sponsorship agreement, the sponsorship request for the first phase, the lending agreement and the project agreement.
The inter-sectoral negotiating delegation will comprise representatives of the State President and Government Offices, the Ministries of Planning and Investment, Finance, Foreign Affairs and Justice, and the SBV.
The Deputy PM has entrusted the SBV, which is responsible for Vietnam 's negotiations, to coordinate with relevant ministries and agencies in completing necessary procedures for the negotiations with ADB and report the negotiation results to the Prime Minister.
The 12-km and 11-station Ho Chi Minh City Metro Route No. 2 will run through Districts 1, 3 and 10, Tan Binh and Tan Phu districts.
Work on the project kicked off on August 24, 2010 and is expected to be completed in 2016