The city has received great support from the French government in training technicians in laboratory and equipment package, said Director of the Center of Analytical Services and Experimention (CASE) Chu Van Hai at a meeting with Emmanuel Ly-Batallan, Consul General of the French Republic in Ho Chi Minh City yesterday.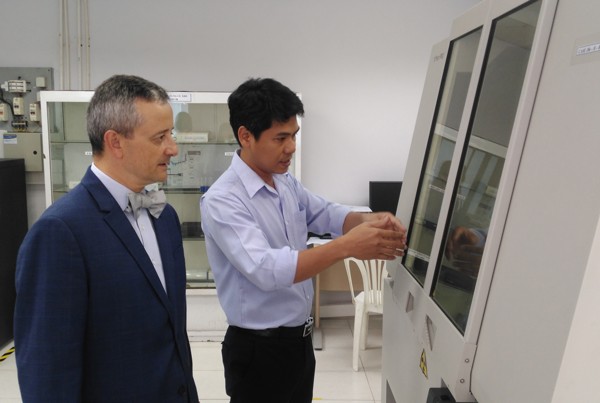 Emmanuel Ly-Batallan, Consul General of the French Republic in HCMC visits CASE's lab (Photo: SGGP)
In the period 2011-2016, the municipal People's Committee invested in over US$4.3 million to expanding the facility with the target of converting the center into international –level center. In addition, the city also spent EUR1.4 million to build a laboratory for research and development of animal feed.
The center is now under the Department of Science and Technology.

At first the center was built based on French – Vietnamese Government technological cooperation Program. After 30 years, CASE is now a member of the laboratory network in analyzing agricultural, forestry and fishery products  in the world Le Réseau Experagro.

CASE has also welcomed the visit, assessed the analyzing capacity of experts and organizations from FDA, EU, Japan, Nestlé, DKSH Group, Sanofi-Aventis ... and ministries of Agriculture and Rural Development, Environment and Natural Resources and Industry and Trade when choosing CASE as a laboratory for analyzing for commodities, especially seafood and agricultural products exported from Vietnam.

Currently, CASE is cooperating with some French researching units to improve its capacity of carrying out experiments.

Highly praising CASE's achievement for years, Consul Emmanuel Ly-Batallan said that the center is one of successful model of cooperation between France and Vietnam. In the future, the two side governments will promote cooperation in training highly qualified personnel as well as organize more cooperation forums where French and Vietnamese enterprises and researching units can exchange information.

The French Embassy in Vietnam planned to allocate an amount to support cooperation projects between the two countries expecting that CASE or centers under the Department of Science and Technology to participate in the project.