The 2015 Vietnam Motor Show opened in Saigon Exhibition and Convention Centre (SECC) in Ho Chi Minh City on October 28, attracting participation of 11 members of the Vietnam Automobile Manufacturers' Association (VAMA).
 
16 premium brand names with 150 models are displayed in the event, including Toyota, Chevrolet (General Motors), Ford, Honda, Lexus, Mercedes-Benz and Thaco Truong Hai with its three brand names of Kia, Mazda and Peugeot.
 
Moreover, the organizational board placed booths of the support industry, auto toys and accessories.
 
On the occasion, the organizational board also hosted driving test in order to bring a new experience for customers.
 
This year Vietnam Motor Exhibition 2015 marked the 15th anniversary of operation and development of the Vietnam Automobile Manufacturers' Association.
 
From January to August, 2015, wholesale turnover of members of VAMA increased 62, 6 percent compared to the same period last year, reaching 125, 418 cars.
The exhibition opens at 9am – 6pm from October 29 to November 1.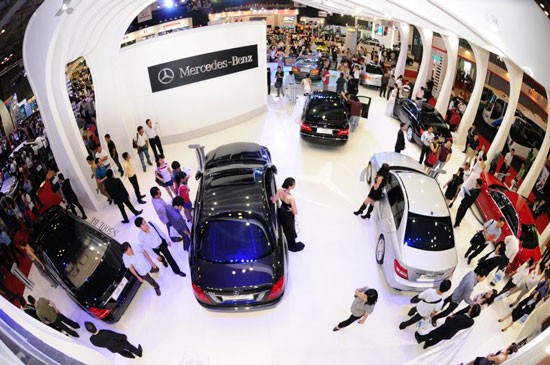 16 premium brand names with 150 models are displayed in Vietnam Motor Exhibition 2015