While launching a national campaign titled 'Prevention of mother-to-child HIV Transmission' during the month of June, the Ministry of Health announced that among the 200,000 patients infected with HIV in Vietnam currently, 5,000 are pregnant women.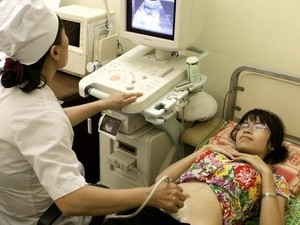 Regular check ups for pregnant women will reveal HIV infection and prevent transmission from mother to child (Photo: Vietnam plus)
With the average rate of mother-to-child HIV transmission reaching 30-40 per cent, there are approximately 2,000 newborns infected with HIV.

During the month-long campaign, local authorities will focus on media as a means to popularise and raise awareness of HIV while also providing health care services to prevent HIV transmission via pregnancy.
At least 80 per cent of expectant mothers will be able to access necessary information for prevention of HIV transmission.

In addition, the Department of Health in Hanoi has asked concerned agencies to increase monitoring activities over implementation of regulations related to technical procedures for obstetric diagnosis, observation, and emergency work as well as infant resuscitation.

It was reported that Hanoi was one of the six places in Vietnam where obstetric complications had occurred recently, raising much worry in the public.

Statistics of the Ministry of Health show that there are nearly 700 deaths during childbirth each year in the country, an average of two per day.
In related news, on June 3 the Thu Duc General Hospital provided medical tests and treatment to more than 300 children of poor workers in Linh Trung Export Processing Zone No.1. Moreover, they were given free milk, textbooks and confectionery.
The total expense went up to VND60 million (approx US$2,880) which came from a charity fund raised by hospital employees.

Previously, the hospital also organised free gynecological examination for more than 350 poor female workers in Linh Trung Export Processing Zone No.1.