The event is part of the activities in the visit to Japan from March 18-25 by a delegation from Ho Chi Minh City, led by Chairman of the municipal People's Committee Nguyen Thanh Phong.

The opening ceremony of the festival were attended by Former Vice President Truong My Hoa, Vietnamese Ambassador to Japan Nguyen Quoc Cuong, Governor of Japan's Aichi Prefecture Hideaki Ohmura, Nagoya Mayor Takashi Kawamura, and Ho Chi Minh City's tourism ambassador in Aichi Noriko Hirose.
The Vietnamese festival in Aichi 2018 inluded a series of cultural activities, such as exhibition on Ho Chi Minh City; art programs; traditional music performances; Ao dai fashion show; the presentation of Vietnamese food, folk musical instruments and calligraphy; the introduction of activities promoting relationship, cultural , sport and tourism exchanges between Vietnam and Japan, Ho Chi Minh City and Aichi.

Speaking at the event, Chairman Nguyen Thanh Phong said that the "Vietnamese festival-Ho Chi Minh City's integration and development" is chance to introduce newest images and experiences on the economy, culture, fine arts and tourism of Vietnam , particularly in Ho Chi Minh City. It is to contribute to tighten cooperation between the two localities and their peoples as well as deepen the Vietnam-Japan strategic partnership.

Ms. Noriko Hirose hoped the festival would help Japanese people learn about the land and Vietnamese people and overseas Vietnamese relieve feelings of homesickness.

On the evening of April 7, a special art performance marking the 45th anniversary of the establishment of Vietnam –Japan diplomatic relations was organized with the participation of popular Vietnamese artists.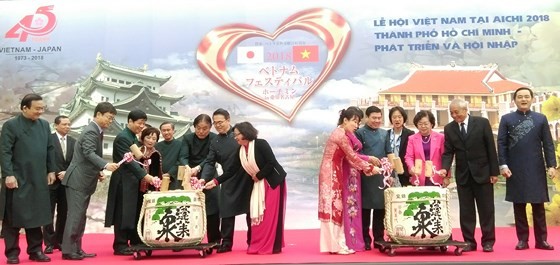 Leaders of the two localities attend the Ceremonial opening of the sake barrel (Kagami-biraki) to kick off the festival.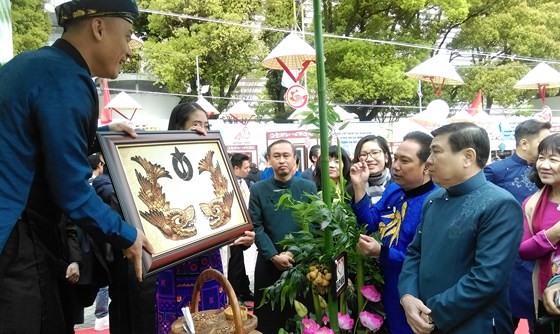 Chairman of the municipal People's Committee Nguyen Thanh Phong (R, in black Ao dai) visit a stall.

A dancing performance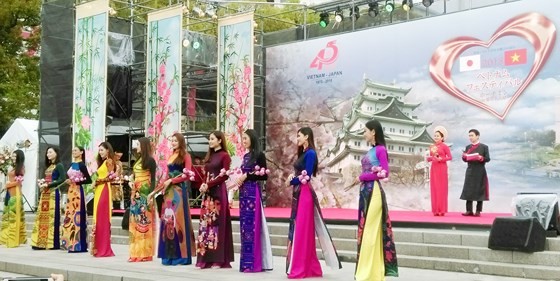 Ao Dai fashion show