Some 300 enterprises and associations are showcasing their products at the Vietnamese Goods Identity Week - Pride of Vietnamese Goods fair, which opened on September 27 in Hanoi, the central coastal city of Da Nang and Ho Chi Minh City.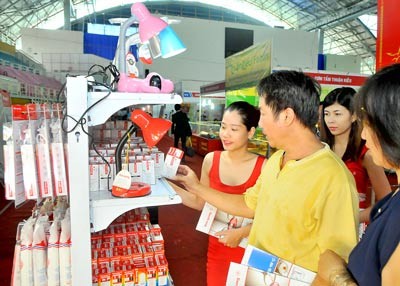 Customers buy Dien Quang light bubs at the Vietnamese Goods Identity Week in Ho Chi Minh City (Photo: SGGP)
The event, held as part of the Domestic Market Development project and Buy Vietnamese Goods Campaign for 2014-2020, drew the attention of thousands of consumers to 500 booths in Hanoi and 300 booths in HCM City, displaying diverse garments, footwear, mechanic machines, industrial support products, farm produce and pharmaceutical products, among others.
A line-up of programs are scheduled at the fair, including goods exchange activities, a "golden hour" for electronic and information technology product shopping, contests to identify made-in-Vietnam goods and a conference to connect sellers and buyers.
Speaking at the opening ceremony, Deputy Minister of Industry and Trade Ho Thi Kim Thoa highlighted that the event aims to foster the dissemination of high-quality Vietnamese products among domestic consumers while increasing Vietnamese commodities' competitive capacity.
She added that the fair creates a valuable opportunity for consumers to access Vietnamese products and link local enterprises to establish a Vietnamese goods channel distribution nationwide.
According to Vu Trong Kim, Vice President and Secretary General of the Vietnam Fatherland Front Central Committee, Vietnam is striving to launch the "Buy Vietnamese Goods Campaign", aiming to encourage all Vietnamese residents, businesses and provinces and cities selling Vietnamese commodities at stable prices by 2020.
The fair will run until October 2.