A high level meeting of leaders on December 21 in Ho Chi Minh City commemorated the 67th anniversary of Vietnam People's Army (Dec 22, 1944), People's National Defense Day (Dec 19) and the 51st anniversary of the founding of the National Liberation Front of South Vietnam.
Among the guests of honor were Le Thanh Hai, Political Bureau member cum City Party Secretary, Phan Van Khai, former Prime Minster and Truong My Hoa, former Vice State President.
Duong Quan Ha, Chairman of the HCMC Motherland Front Committee, delivered a speech in which he praised the achievements of the heroic Vietnam Revolution over the past years. He stated that HCMC youth should uphold the glorious heritage left by the past generation, who had dedicated their youth to the national cause and security, to fulfill their mission entrusted by the Party, State and people in national reconstruction and nation building.
He appealed for deeper consolidation of the entire nation at all levels, to enhance the resilient combat spirit of the Vietnamese people's armed forces, especially when the country is facing so many difficulties and challenges.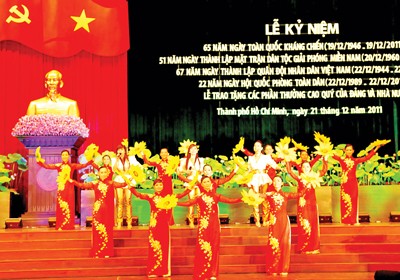 The performance at the meeting to celebrate significant days
He promised that the Party, authorities and the people of HCMC would successfully realize the task of building the country and protecting national sovereignty, turning HCMC into a civilized and modern city.
On this occasion, HCMC leaders also awarded medals to the armed forces and prominent individuals who have contributed to the cause of national reconstruction and defense in the past.
HCMC Mayor Le Hoang Quan, on behalf of the HCMC party and People's Committee praised the immense sacrifices made by the armed forces in protecting the country through relentless efforts, overcoming many challenges during the last phase of national development.
He also expressed his hope that veterans would continue to stand side-by-side with the Party, People's Committee and the people of HCMC in building HCMC into a more prosperous city.
On the occasion of the 67th founding anniversary of Vietnam People's Army, a Sai Gon Giai Phong newspaper delegation led by Editor-in -Chief Tran The Tuyen and Vice Editor-in-Chief Nguyen Tan Phong, visited army officers and soldiers at Military zone 7 headquarters and HCMC army headquarters.