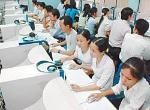 Young immigrants to HCMC join work places that require professional skills.
Some new lights on pending problems of Ho Chi Minh city immigrants have been shed in the seminar named "Policies and laws on immigration to cities and industrial areas", conducted by the National Assembly's Social Affairs Committee, the Ho Chi Minh City People's Council and the UN Population Fund in Vietnam.Current situation
According to Dr. Nguyen Van Tien, Head of the National Assembly Office's Department of Social Affairs, up to now Vietnam still lacks high-level regulations like laws or ordinances concerning the immigration issue. Thus, there are a lot of social problems in big cities caused by immigration.
Recently, HCMC drafted a new regulation on immigration. However, it was said to bring "more chaos than benefits" in managing immigration to the city as it failed to provide fair treatment to immigrants in the city.
According to the draft, at first an immigrant to HCMC would be considered a "temporary resident", then if some requirements were satisfied, among which is the house possession, he would receive "permanent resident" status. However, most immigrants cannot afford homes.
Moreover, it is true that if immigrants to major cities such as Ho Chi Minh City and Hanoi buy houses, they cannot obtain the house owner certificate because they do not have the permanent resident certificate. But a permanent resident certificate requires a house owner certificate first.
Immigrants currently have to pay more for electricity and water and their children are not allowed to attend public schools in the city.
In many industrial provinces like Binh Duong and Dong Nai, the authorities invested in building houses for rent as a solution to deal with the immigrant workers' residence problem. However, currently only 4% to 15% of these workers can move in the houses.
Also, only 10% of the immigrants have the right to go to school, said the statistics made by the HCMC, even when they take a very important part in the urban centers' economy, for example, so far they have contributed 30% of the HCMC's GDP.
Sufficient solutions needed
According to Tran Thi Thanh Dieu, a standing member of the HCMC People's Council, HCMC is in need of a specific and practical mechanism to deal with the immigration problems.
At the seminar, many representatives clarified the indispensability of immigration from rural to urban cities in the urbanization and industrialization process. Thus, the government needs to set up flexible but practical policies and regulations on the immigration issue.
Nguyen Thi Hoai Thu, head of the National Assembly's Committee for Social Affairs pointed out, "Migration must be considered an inevitable trend which boosts cities' socio-economic progress."
Addressing the seminar, Dr. Nguyen Hoang Mai, Deputy Director of Social Affairs Department of the National Assembly Office, said that Vietnam should learn the experience from China in solving the issue.
Thanks to the combination of managing and servicing, China has established a leading department to control the immigration as well as build industrial parks together with residences, cultural centers to improve the immigrants' lives, says Mr. Mai.
Some petitions about immigration policies and laws given at the seminar:
The central Party should discuss and issue a resolution on immigration and must agree that the immigration to urban centers is a positive motivation to promote the society and economy.

The National Assembly should assign a particular ministry to be in charged of managing the immigration. Investment to rural areas and other sub-cites should be concerned.

The Government should direct other ministries and industries to consider permanent resident certificate as a tool for merely administration rather than to control other resident's activities.