Ho Chi Minh City expects to raise next year's total investment to at least VND73 trillion (more than US$4.56 billion), which is an increase of 13.4% from the VND62 trillion already implemented for this year.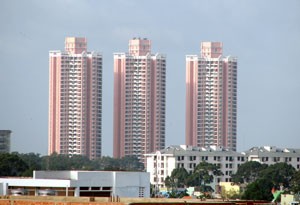 Thuan Kieu Triple Towers in Ho Chi Minh City's District 5 (Photo: TC)
The investment will focus on modernizing technology and equipment in the city's key industries.
Prioritized funding will go to software, services with high revenue, and the production of materials used to manufacture exports.
In agriculture, there will be three focuses: increasing high-quality and high-yielding trees and livestock; expanding the production of organic vegetables, dairy cows and aquaculture; and developing ecotourism.
Large sums will also be spent on developing the infrastructure, such as water supply and drainage, roads, bridges, and power systems. In addition, poverty reduction, environmental protection, education, health care, workforce training, and other fields will receive substantial funding.
Ho Chi Minh City will continue issuing municipal bonds and encouraging the Build-Operate-Transfer form for infrastructure development. The pursuit of official development assistance (ODA) capital to support socio-economic development will continue as well.