In order to solve the shortage of skilled workers, Ho Chi Minh City (HCMC) has started a pilot program in association with central vocational schools in the City to train technical workers. With a closed model that is associating training with employment, and training according to enterprises' orders, 100 per cent of students can get jobs upon graduation.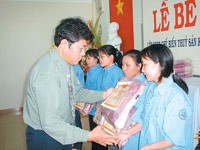 Vocational joint program trainees majoring in aquatic products and food processing industry at the graduation ceremony.
For the first time, HCMC College of Foodstuff Industry implemented a pilot program on associated vocational training. The college has trained 156 technical workers in processing seafood according to HCMC's requirement. 
The training result was better than expected. One hundred per cent of graduates were employed right away after their graduation by Seafood Joint Stock Company N0 1 and NVT Seafood Processing Limited, Company at a salary of about VND1 million per month. The two companies have also requested the college to train more workers.  
In order to expand the market share for exporting frozen seafood products, said Mr. Nguyen Ngoc Trung, Vice Director of the Seafood Joint Stock Company N0 1, the company will build new large-scale seafood processing factories. Therefore, it will employ about 1,000 more skilled workers.  
In order to meet enterprises' work force demands, students not only learn theories but also have to have hands-on experience in factories. "Because new workers are familiar with production processes, industrial working style and labor disciplines prior to their employment, they can perform their work better right at the beginning and meet the company's production requirements." remarked NVT Co.  
Ho Chi Minh City has invested nearly VND1.4 billion in training 450 technical workers at three central vocational schools. Cao Thang Technical School is specialized in electricity and iron technique, HCMC College of Foodstuff Industry in aquatic products processing, and Industrial High School No.2 in garment technique. 
This vocational training model has been performing well, and most graduates who were trained under this model have been employed, said Mr. Nguyen Thanh Hiep, manager of the Chamber of Vocational Training, Department of Labor, War Invalids and Social Affairs.  
The program will be expanded and become a regular training form and the City will continue to invest another VND1.5 billion in the training joint program between HCMC and central vocational schools.  
In the face of demand for integration and development, HCMC's companies are in desperate need of technical skilled laborers. Annually, they need to recruit about 30,000 laborers whose professional skill is at 3/7 level or equivalent. But the City's vocational training system can not meet their demand, according to the Department of Labor, War Invalids and Social Affairs. 
Lots of foreign and local investors have difficulties in recruiting people with technical skills. Therefore, setting this new training trend is a new effective way to satisfy the increasing demand of the HCMC's labor market.