As part of the many activities to mark 'Earth Hour 2012' on Sunday, over 100 volunteers gathered in District 4, Ho Chi Minh City to launch a pilot project of solar lights made from plastic bottles.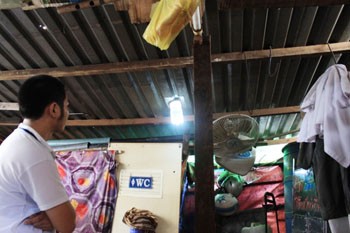 A solar light made out of a plastic bottle in District 4, HCMC (Photo: bee.net)
Solar lights made out of plastic bottles are being used in Brazil and the Philippines. Empty bottles are filled with water and a small amount of chlorine and then installed in roof-sheeting with part of the bottle exposed to sunlight and the other half remaining indoors.
The part exposed to sunlight helps light up the part protruding inside the house, thus providing light up to 55-60 kilowatts.
The solar bottle lights not only help each household save 40 per cent in monthly power costs but are also environment friendly.
A group of 200 volunteers are preparing to introduce these bottle lights to more areas of the city like Districts 3, 7, 8, Binh Thanh, Thu Duc and Go Vap.