Many voters in Ho Chi Minh City have been of the opinion that the city People's Council should organize a referendum for the proposal to abolish road maintenance fee on motorbikes in its 18th session scheduled from July 28-31.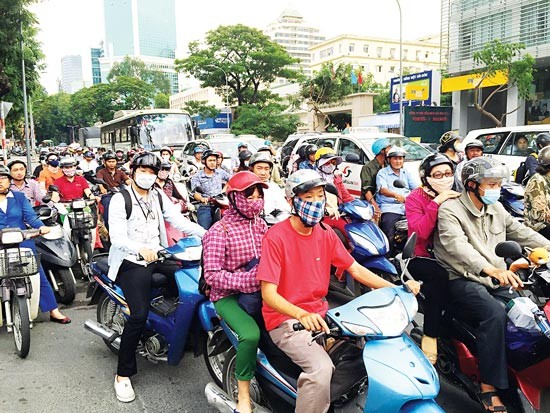 Motorcyclists have already paid many kinds of fee (Photo: SGGP)
The decision of HCMC People's Committee on the toll collection has been effective since May 1. Authorized agencies have provided training courses to implement the decision in 24 districts.
However, Sai Gon Giai Phong reporters have recorded that no district has started collecting the road maintenance fee.
Chairman of District 1 People's Committee Pham Thanh Kien said that the district was waiting for further guidance from the city authorities and final decision from the month-end expected 18th session.
Members of the People's Council and voters have opposed to the road maintenance fee payment, saying it unfeasible and costly.
In a recent meeting with a group of council members in Binh Thanh district, voters suggested eradicating the unreasonable fee.
Council member Van Duc Muoi said that the road maintenance fee has in fact been collected via petrol.
He disagreed with a statement by Minister of Transport Dinh La Thang that local authorities can apply 0 dong collection level during his talk to HCMC People's Council Chairwoman Nguyen Thi Quyet Tam, on the sidelines of the 9th session of the 13th National Assembly on June 18.
Zero dong collection level still required operation of a relevant apparatus which was very costly, Mr. Muoi said.
He proposed relevant ministries to acknowledge the reasonless and unfeasibility of that regulation and propose the Government to change the related decree.