Over 500 Ho Chi Minh City war invalids, wounded soldiers and families of revolutionary martyrs gathered in a meeting recently organized by the city authorities in recognition of their postwar achievements for the 60th anniversary of War Martyrs and Invalids Day (July 27).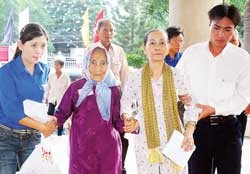 Heroic Mothers attend the meeting to share the honor with  soldiers who overcame their injuries and went on to live successful lives

Thirty-two years after the war end, wounded soldiers still carry the mental and physical scars of battle, whilst families who lost loved ones during the war still feel the pain of their loss. Yet despite such pains and hardships, these victims of war have embraced life and faced challenges front on in order to strive for a better future.

At the meeting, war invalid Duong Van Hao said, "After leaving the army, I received my artificial leg. I worked hard, struggled to make a living, and seemed to have no future. Until, in 1990, the government gave me a small house and a loan as seed capital to start my business. It was a dream come true!"

Ever since, Hao has been much better off. He has proven to be a useful citizen to society and voluntarily takes part in local social work activities. In working together with local residents, Hao has helped to catch nearly 50 burglars, some of whom were armed. His neighbors often worry about his life, but he simply says, "I used to be between life and death in battlefields. I don't fear death. What I'm doing now is to repay my debt of gratitude to the community. Without their help and support, I would probably not have what I do now."

People in the meeting-hall were also moved by Nguyen Hoang Dung's life story, a war invalid that lost both his arms and one leg during the southwest battlefield. After being discharged, he resumed his studies at Ho Chi Minh City University (now HCMC University of Social Sciences and Humanities) in the hope that further education would help him integrate back into normal life. However, if it had not been for the encouragement of associate professor Ly Hoa, former principal of the Ho Chi Minh City University and himself a war invalid, Dung would have given up on his study.

During the ceremonies, Dung left the stage to greet Mr. Ly Hoa and express his gratitude; "I wish to extend my heartfelt thanks to my respected teacher who brought the world to me a second time. Without him, my life would be different," he said.

Dung has a B.A. in English and Economics, an M.A. in Administration and is now Deputy Director of National University Publisher.

Like Duong Van Hao and Nguyen Hoang Dung, wounded soldier Tran Trong Thanh started out very poor. However, he is now the proud owner of a large-scale fish farm and not only does he earn a decent living, but he also helps others to strive for a better life. Thanh said, "I always think of my comrades who gave their life to the country's independence and of Heroic Mothers who have lost their husbands and children to the war. I feel like I still owe them something."

Hao, Dung and Thanh lead three very different lives, but all set shining examples of what war invalids can achieve thanks to their energy and braveness.

On behalf of the city authorities, Mr. Le Thanh Hai, Secretary of the Party's City Committee, said, "The war invalids, wounded soldiers and members of martyrs' families present at the meeting today all deserve to be honored as model citizens and model revolutionists of the country. It is the responsibility of the people of the city and the country as a whole to repay these people for their great contributions and boundless sacrifice for the national independence. "

Ho Chi Minh City now officially has 2,051 "Heroic Mothers", 26,334 war invalids and wounded soldiers and 45,319 revolutionist martyrs.