Although space is at a premium in Ho Chi Minh City, there are many abandoned properties and half-completed construction projects in prime downtown locations.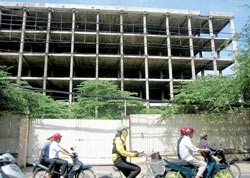 The incomplete Shopping center and estate agent's office in 86 Nguyen Thi Minh Khai street, district 3 has been deserted for many years.
One building in the center of the city, with a 40 meter frontage to Nguyen Thi Minh Khai Street in District 3, is still not complete six years after the Ho Chi Minh City People's Committee granted the land for the construction of a building.
Nearby residents are left wondering why the incomplete building has been deserted for so many years, only used for motorbike and car parking. However, when a reporter went to take photos of the property, a security guard closed the gates.
The building project used to belong to Sai Gon 3 Privatization Company, known as Sai Gon 3 Garment Enterprise between 1986 and 2001.
In 2002, Ho Chi Minh City People's Committee took back the land to build a shopping center and estate agent's office. But that project has not been finished either, even though Ho Chi Minh City People's Committee Deputy Chairwoman Nguyen Thi Hong has ordered work to be completed speedily.
Another wasteful use of land is a Vietnam Airlines Hotel Joint-Stock Company hotel project on the corner of Nguyen Dinh Chieu and Dinh Tien Hoang streets in District 1.
The project was controlled by Vietnam Airlines Corporation, which was working with a foreign company to construct a four-star hotel in 1994. However, the foreign company ran out of money after only five floors were completed. No further work has been done since and the completed construction has fallen into disrepair.
Similarly, work on a building at 37 Ton Duc Thang Street in District 1 stopped last year after only three floors were completed.
Abandoning a construction project means another companies will have to demolish the building in order to begin another project, making it a double waste.
How can this wastefulness happen?
Most of the abandoned construction projects belong to fully or partially state-owned companies, which are able to lease the land for well below market prices.
The usual land lease agreement runs for 50 years, making it very difficult for the state to take the land back.

But Ho Chi Minh City People's Council Economic and Budget Department head Nguyen Minh Hoang said the municipal government should make greater efforts to reclaim wasted and misused land.
Mr. Hoang said companies that companies with neglected or abandoned building projects should be forced to complete the work. If they do not, the land should be taken away.
The city needed land for schools and hospitals, so leaving valuable land idle is especially infuriating, he said.
Hoang also recommended the city government increase land leasing fees to increase the government's revenue and deter companies from acquiring land for construction projects that were not fully funded.