Many housing projects had been opened for sale before the Real Estate Business Law took effect in July this year. However investors have not finished the projects and run away, leaving customers in a miserably hard journey to claim their houses while authorized agencies have not taken drastic actions to help them.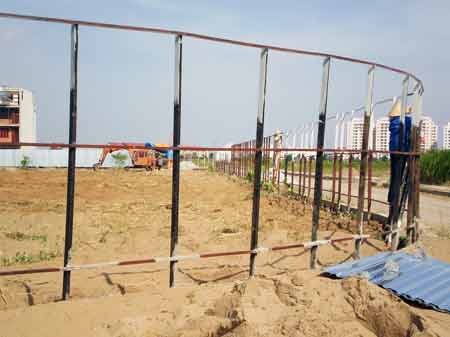 Adonis project has been approved to build 15 stories but investor has sold up to 18 stories and implemented nothing on the construction site (Photo: SGGP)
The Real Estate Business Law requires investors of future housing projects to get bank guarantee to ensure customers' right in case they fail to finish the projects. However, only one project has been guaranteed by banks in Ho Chi Minh City so far.
Gia Phu apartment project has been infamous in Thu Duc district because it had been approved with 156 apartments but sold to 160 customers. At least 68 ones were sold to more than one person. Each buyer has paid an average of VND600 million (US$27,000).
The half-done project has been abandoned while the company's director and deputies have run away. Customers have signed and sent applications to authorized agencies for two years in vain.
After receiving the first application, the HCMC People's Committee Chairman Le Hoang Quan asked the Police Department to ascertain and strictly handle the case as per the law on June 10, 2014.
Mr.Quan required the department to send a report within 30 days after the date they received announcement from the committee office.
The office continued sending the second document asking related sides to transfer the application to the Police Department for investigation on March 26 this year.
The third requirement in writing was sent on June 2 to the Police Department's director to remind him of the two above documents and asked him to report the long-lasting case.
Customers signed another petition to the Police Department's director, heads of the People's Procuracy and the Police Agency of Criminal Investigation in Social Order (PC45) on August 20.
The petition proposed to investigate the case and prosecute offenders for swindling customers out of their properties.
According to this petition, the customers had sent letters of denunciation to the Police Department in Thu Duc District and the city's Police Department in March last year.
Subsequently, the board of directors of the city's Police Department and PC45 assigned Squad 8 to handle the case. Officials invited the customers to get statements afterward. However two years have gone by and the police force has yet to thoroughly solve the issue, said Mr. Hung, customer of Gia Phu project.
Not long ago, Adonis project in South Saigon was approved to build 15-storey apartment block. However investor sold up to 18 stories, did nothing and fled away with money.
Some apartment buyers at Royal apartment block project in Binh Thanh and An Suong residential area in District 12 have also fallen into similar situation.
Many customers of PetroVietnam Landmark in An Phu Ward, District 2 of investor PVC Land had previously come to the headquarters of PetroVietnam claiming their apartments. Most of the apartments have been sold out and many customers said they had paid 95 percent of contract value. However the project has walked on the spot for four years and been unclear when it will finish.
Director of Hoang Anh Saigon Real Estate Company Doan Chi Thanh said that when 60-70 percent apartments of a project were sold, investors could completely feel secure to implement the project.
Hundreds of residents are still waiting for drastic actions from authorized agencies to remedy part of their damage.