Saigon Tunnel Management Center hosted a ceremony to begin construction of a new bridge connecting Nguyen Tri Phuong Bridge with Vo Van Kiet Boulevard in Ho Chi Minh City on December 29.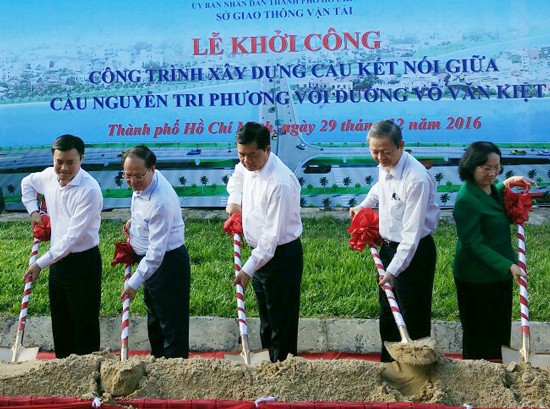 HCMC leaders attend a ceremony to start work on a new bridge linking Vo Van Kiet Boulevard up to Nguyen Tri Phuong Bridge on December 29 (Photo: SGGP)
The project has a total capital of VND194 billion (US$8.52 million) from the city budget and is expected to complete after 12 months of construction.
Deputy director of the center Le Minh Triet said that the project comprises three branches. The first 122 meter branch will permit vehicles in Vo Van Kiet Boulevard from Binh Chanh to reach Nguyen Tri Phuong Bridge.
The second branch will run from Nguyen Tri Phuong Bridge to Vo Van Kiet Boulevard in District 1.
The third branch will connect the first branch with Nguyen Tri Phuong Bridge, spanning Tau Hu Canal to join in Ba Dinh Street. Once being built, it will combine with Nguyen Tri Phuong Bridge to create four lanes for vehicles to travel from District 5 to District 8 and vice versa.
Besides the three main branches, the project comprises auxiliary items such as lightning system and trees.
The ceremony was attended by Secretary of the HCMC Party Committee Dinh La Thang, standing deputy secretary Tat Thanh Cang, deputy chairman of the city People's Committee Le Van Khoa and agency leaders.
Stating at the event, deputy chairman Le Van Khoa said that the new bridge aims to reduce traffic jam in the area.
He supposed the Department of Transport to soon expand bridges Kenh Te and Chu Y (Te Canal and Y Shape) and rebuild Nhi Thien Duong 1 Bridge, prompting the People's Committee of District 8 to broaden Ba Dinh Street and reorganize traffic at Chanh Hung-Hung Phu crossroads.