Workers at a number of companies in industrial parks (IPs) and export processing zones (EPZs) in Ho Chi Minh City are suffering from harsh working conditions, a recent survey by Sai Gon Giai Phong showed.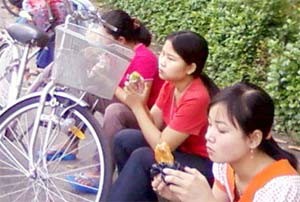 Workers with sparse meals before working. Some of the harsh conditions they work in were revealed in a recent survey by Sai Gon Giai Phong. (Photo: SGGP)
Most workers at IPs and EPZs come from rural families, and have yet to acclimatize to working in industry.
To make them work more efficiently, some bosses have adopted regulations to drive them into an environment controlled by orders and principles. However, among those regulations, many are unacceptable to workers.
1 second = 30 minutes
At electronics maker, N. C., where workers start from 5:55am and are controlled by clocking-in machines.
If a worker is late for work from one second to 29 minutes, the time will be rounded up by the computer to 30 minutes. In case of being late from 30 minutes and one second, the lateness will be calculated as 60 minutes.
Such a calculation has affected workers' incomes, since their wages will be deducted for being late for work.
 
Yet, when workers work overtime from one minute to 29 minutes, the overtime is automatically recorded as zero.
That means workers are paid only when they have worked at least an extra 30 minutes.
A simple calculation can be made: in the event that all 4,000 workers work overtime for 20 minutes, the total working time will be 4,333 eight-hour working days. The huge amount means a big loss to workers and a great benefit for their employer.
Asked about the unreasonable calculations, a company representative said it was because the machine operates under the 30 minute-block system.
Easy recruitment aimed at prolonging probation
At the personnel office of H.K., another electronics maker, SGGP reportes acting as applicants for work, talked with a young rural girl named Phuong, who used her older sister's papers in applying for work.
After interviewing the girl, an experienced personnel officer realized that Phuong made a false statement in her resume, but in the end she agreed to recruit Phuong as a worker on probation.
At a garment company, Y. V., a personnel officer showed his unwelcome attitude toward a young girl named Linh, whose health is classified as Grade 3, since she suffers from asthma.
He asked her: "How can you work with such a health condition?" and "What if you faint during work?" However, he eventually accepted her as an ironing worker.
Acting as a job seeker, an SGGP reporter visited N.C., a producer of precise electronic devices, where there is no room for shorted-sighted workers.
Finding her wearing near-sighted glasses, an officer asked: "Who has interviewed you? Do you know the company does not recruit people like you?"
However, she was eventually accepted with a warning: "You should think how you can work to avoid dismissal." After the officer left, some workers there advised her not to wear glasses when working.
Talking with them, the reporter was told that many workers with poor health conditions are still recruited by the company, but when the one-month probation comes to an end, the company will sign labor contracts with 30-50 percent of them.
Subsequently, the remaining workers have to continue working on probation and do not know when they can become contractual workers for the company.
Meal quality: an issue left open
Another problem faced by workers at IPs and EPZs zones is meal quality, which remain an issue left open for businesses to decide according to their own regulations.
Since there have been no laws or regulations governing such food, many workers have been suffering from poor quality meals, but they do not know where they can lodge a complaint.
Some companies offer meals for workers who do extra work for at least two hours, and at some others the requirement is three hours.
There are some companies that only pay VND1,000 as a meal allowance for every hour of overtime work.
Meanwhile, poor hygiene conditions and inconvenience of toilets at many businesses is also a chronic problem to workers, particularly for female workers. Some companies do not have enough toilets for workers.