Kirsan Ilyumzhinov, President of the World Chess Federation (FIDE) said that Vietnam has many talented chess players which goes to show that the country is a strong contender and promised that FIDE would help develop chess in Ho Chi Minh City and the southern province of Binh Duong in its global promotion and development plan.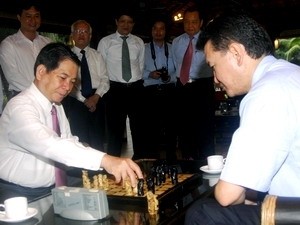 President Triet  (L) plays chess with FIDE President (Source: Vietnamplus)
FIDE will provide the two localities with advanced teaching methods, competition techniques, equipment and software programs.
Ilyumzhinov was speaking at a meeting in Van Thanh Tourist Park in Ho Chi Minh City on June 18 in the presence of State President Nguyen Minh Triet.
He also expressed his desire to see Vietnam have its own world class Chess Academy.
President Triet thanked the FIDE President for his efforts in promoting chess in Vietnam, particularly in HCMC and Binh Duong province. He thought that chess was an appropriate game for the Vietnamese people, seeing the number of grandmasters it had produced in international competitions, like Le Quang Liem with an Elo score of 2,700 and Nguyen Ngoc Truong Son with an Elo score of 2,635.
President Triet recalled past memories of a game of chess with Kirsan Ilyumzhinov when he was head of the Republic of Kalmykia (Russia). The chess pieces were all signed with both their signatures and will be donated to Binh Duong province as a token of goodwill.
Le Thanh Hai, the city's Party Secretary and many Binh Duong leaders were present at the meeting.