10.40 am Sunday, a Yamaha scooter burst into flames when its owner was driving along Le Quang Dinh Street in Binh Thanh District in Ho Chi Minh City.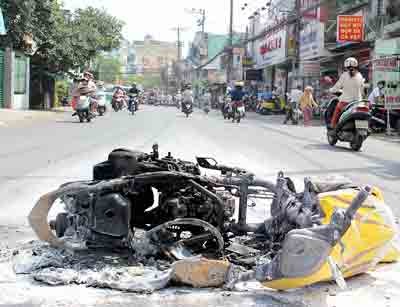 The charred remains of the Yamaha Luvias scooter that caught fire on Sunday (Photo: SGGP)
Later, Truong Van Tan, the owner of the Yamaha Luvias scooter, told reporters that soon as he was approaching the house on 284 Le Quang Dinh Street, he smelt something burning.
He slowed down and quickly jumped off the scooter. His life was saved in the nick of time, just as the scooter exploded and soon burst into flames. Watching this, other drivers also panicked, discarding their vehicles in a hurry.
The scooter was completely charred and soon became a skeleton heap of metal. Tan suffered slight burns and injuries.
He said that he had just bought the scooter 6 months ago and had hardly even used it much.
The Binh Thanh District police arrived at the scene soon after being informed of the incident and collected evidence for further investigation.
Transport Minister Dinh La Thang told a Sai Gon Giai Phong reporter that it is difficult to trace back the cause of the incident and hold anyone accountable for the charred scooter or even come to any conclusive reason.

He added that so far no regulations to check motorbikes had been issued. The Ministry of Transport has yet to send documents for government permission to conduct random checks of motorbikes.