Over 700 Vietnamese people from 30 countries and territories attended an annual year-end meeting at the Reunification Palace in Ho Chi Minh City on January 21.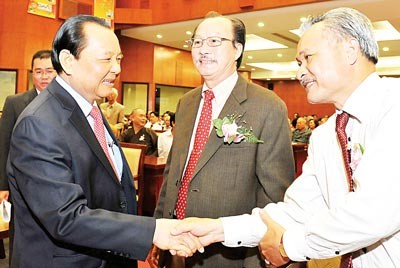 Municipal Party Committee secretary Le Thanh Hai (L) meets overseas Vietnamese at the gathering.
Three individuals received certificates of merit from the Prime Minister Nguyen Tan Dung. The Municipal People's Committee also awarded 19 individuals and nine organizations certificates or merit for outstanding contribution.
Also present were municipal Party Committee secretary Le Thanh Hai and Chairman of the People's Committee Le Hoang Quan.
Chairman Quan hopes Vietnamese people living abroad will continue to be a cultural and economic bridge of international relations for the country.
Foreign currency transferred to VND in Ho Chi Minh City reached US$4.8 billion by the end of 2013, said Chairman Quan during the meeting. In 2012, the amount was at US$4.1 billion.