Employment opportunities in food service, retail and construction sectors have skyrocketed recently, attracting throngs of job seekers in Ho Chi Minh City.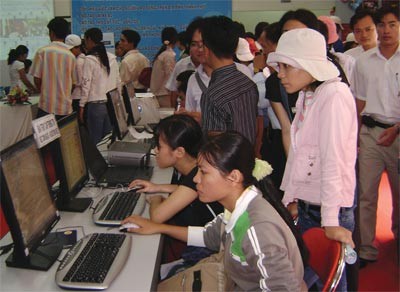 Job seekers search for seasonable employment opportunities at a job center in Ho Chi Minh City (Photo: SGGP)
Tran Anh Tuan, deputy director of the HCMC Center for Labor Market Forecasting and Information, said demand for labor soared in November by 14.57 percent compared to October. Demand in the food sector increased fourfold and personal management and organization by 1.3 times.  
 
More workers are needed as companies boost production for the upcoming Christmas and Tet holidays, he added.
 
Many laborers, especially students, enjoy the short duration of seasonal jobs, which allow them to quit easily if something better comes along.
 
Doan Thi Thu Ha, a student of the HCMC University of Science, said she worked as a cosmetic salesperson in a supermarket last Christmas but this year she chose to work as a "Mother Christmas."
 
"Besides distributing [promotional] leaflets for drinks and food, I and my friends will deliver Christmas gifts. With an average income of VND50,000-80,000 a day, it will be easy to prepare for our trip home to Quang Binh Province to celebrate Tet," she said.
 
"I worked a rather easy job last year, but the salary was fairly low – only VND1.1 million per month and it was paid rather late in the year. This year, I chose a short-term seasonal job because I can quit it easily if I find another job with a higher salary," Ha added.
 
Student Nguyen Thi Quynh Hoa from Hai Duong Province thinks students shouldn't commit to permanent jobs because they pay low salaries and rarely offer flexible schedules.
 
Last Christmas, she worked in a showroom at the Zen Plaza shopping center, but this year she will work as a marketing staff at fairs.
 
Dinh Minh Thai, who just quit his job at Saigon Trecision Mechanics Company due to health problems, said, "I am working as a porter at Thu Duc Agricultural Products Wholesale Market with a wage of VND150,000 per night. Though the work is hard, it takes little time and the pay is high. There are more and more goods to carry at the year-end so I can earn more with this job."
 
The HCMC Youth Job Center has received about 600 job seekers a day since early December, while it saw only around 300 in past months.
 
The center's director To Duc Thang said, "Enterprises have asked us to recruit many seasonal laborers for the Christmas and Tet holidays. For instance, on December 8, we recruited 45 workers to make calendars, 100 to wrap gifts, 100 to deliver goods, and 100 cashiers at salaries of VND50,000-150,000 a day.
 
"Currently, young laborers are very interested in seasonal jobs because they can get higher salaries rapidly and the jobs are also interesting," he added.
 
Meanwhile, many factories in industrial parks are facing a lack of employees as they offer lower salaries and less time flexibility. 
 
The ZC company, a US-based producer of scissors and knives, says it is in desperate need of laborers, but has only been able to find about 10 a week.