As per the Ho Chi Minh City Real Estate Association (HoRea)'s survey, over 50,000 newly-wed couples a year in the city desire to have their own house leading to the great demand of housing.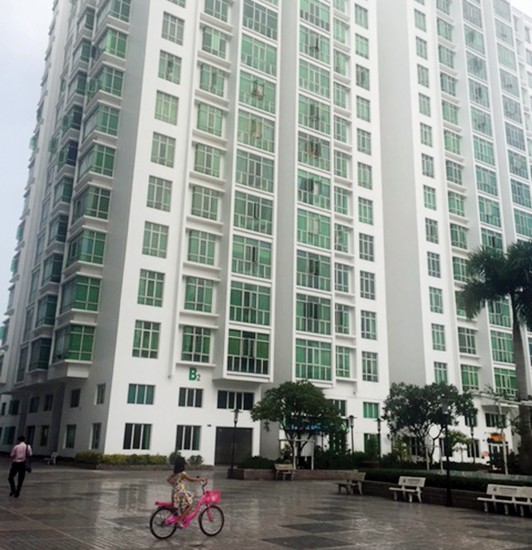 A cheap condo in District 7 is built for people with average income. Increased demand in housing lead to higher price(Photo: SGGP)
However, young couples have faced difficulties in buying a house of their own choice because of increased price of house and their limited financial condition.

In its survey, HSBC showed that young people who were born from 1981 to 1998 delayed their plan to buy their own house because of slow salary increment and continued rapid house price growth. Also the survey revealed that Asian young generation asked their parents for financially aid when they want to buy houses.

A survey comprising of 10,000 participants in 10 nations showed that four out of 10 young people have a house of their own accounting for 38 percent. Up to 81 percent of young people who have had a house and planned to buy a house within five next years.

69 percent of young residents said that they have not saved enough money for the first payment of a house and 39 percent of them said that they are unable to buy a desired house because price of house surged.

Meanwhile in Vietnam, HSBC reported that increased demand of house resulted from the "golden age" population with fast urbanization speed. Currently, one-third population or 32.8 percent is in the age of 25-45; half of them are young people.
Urbanization speed in Vietnam is 35 percent in 2016 and it will be 40 percent by 2020 which lead to economic hubs such as Ho Chi Minh City, the central city of Da Nang, Hanoi and the northern city of Hai Phong will be homes of 36 million within four next years.

U.S.-owned realty service company CBRE Vietnam forecast that house price in HCMC will soar in 2017 and increase by 10 percent in three next years. The realty service company also predicted that 43,861 condos will be sold in 2017.