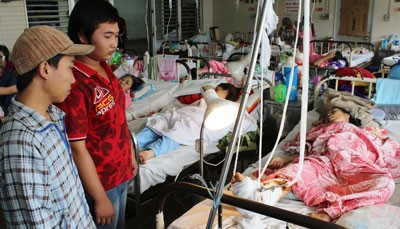 Young traffic violators watching patients in Cho Ray Hospital (Photo: SGGP)
More than 80 young traffic violators were taken to the Emergency Room and Brain Injury Division in Cho Ray Hospital in Ho Chi Minh City on August 29 to watch and hear patients groaning with pain.
These young traffic violators were also told about the consequences of traffic accidents and learnt more about emergency and treatment procedures.
On this occasion, wardens also propagandized traffic regulations to them.
After the visit, many pledged to strictly abide by traffic rules as they did not want to suffer such wounds and consequences.
The activity is part of a Safety Traffic Program launched by Vietnam Youth Committee in District 8, to enhance traffic prevention and knowledge among young drivers.