On July 3, the fourth meeting of the 8th Ho Chi Minh City Party Executive Committee opens, which aims to review the implementation of socio-economic tasks in the first six months and discuss the tasks of the next six months of 2006.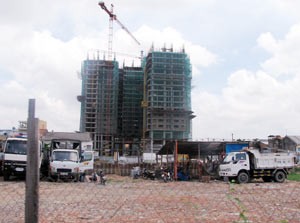 Site clearance is under way for urban construction in Van Don Wharf, District 4, HCMC (Photo: TC)

The meeting will also discuss the master plan of HCMC construction until 2025 and personnel of the city's party committee.

According to a report of the HCMC People's Committee, in the first six months of 2006, there has been a year-on-year GDP increase of 10.5 percent, with 10.5 percent growth of service, 10.8 percent of industry and construction, 11.7 percent of non-state economic sector and 11.9 percent of foreign-invested sector.

Notably, while the city is on the verge of WTO membership, the competitiveness of some local enterprises is still lagging behind that of other countries in the region in terms of price, quality, distribution and consumers' confidence.

Also, high-end services have been under performing. Foreign investment attraction increases, but land-lease rates and expenses of site clearance are still high, thus many industrial zones cannot afford land leases.

Urban planning has been progressing slowly, with inconsistent procedures of administration between departments, branches and localities.

To reach a higher GDP growth in 2006, the meeting will focus on some solutions such as establishing a consultative body to assist the government and enterprises deal with such issues as anti-dumping, anti-subsidy and other trade protection measures and trade disputes when joining WTO.

An exchange center for materials of footwear, textile and garment sectors will be also mentioned. The city also plans to step up research and design of urban construction in central areas, and complete the indices of construction following the city's standards.

The meeting will also discuss personnel of city-level authorities, which aims to bring new blood into state offices with younger civil servants.

The meeting is expected to last three days.