A recent meeting of Ho Chi Minh City's "Youth Council" raised some hot debate among attendees relating to the city's human resource situation in the near future. City leaders regarded the meeting as successful.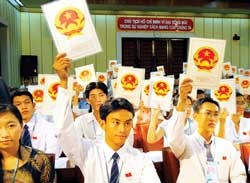 Young members of the HCMC Youth Council

After hearing a report delivered by Council Chairman Phan Nguyen Quoc Thuan on the city's human resource development plan for the period 2007-2010, many of the young councilors contributed their opinions on the matters at hand.

Regarding a proposal made by the HCMC People's Committee to the Prime Minister that 1,000 hectares of land in southern Sai Gon be used to build a campus for 70,000 students, one deputy said that that will not be enough for the city's burgeoning number of students.

Another councilor expressed her opinion that the most important priority for the city's human resource sector should be the expansion of vocational training, adding that the city should open short-term training courses for vocational experts.

Deputy Nguyen Hai Truong An suggested that the city should allow all economic sectors inside and outside the country to recruit laborers and sign more labor contracts with private-owned firms.