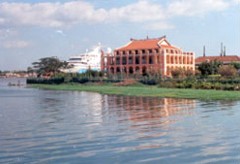 The Ho Chi Minh Museum in HCMC
In HCMC, more than 3,000 young volunteers from the armed forces, militia and Youth Union yesterday began the Green Campaign 2007 to clean up the city.
After a ceremony to mark the start of the campaign and an incense-offering ceremony at the Ho Chi Minh Statue in the Ho Chi Minh Museum, over 100 volunteers tidied and decorated the An Nhon Tay Revolutionary Martyrs Cemetery in Cu Chi District.

In the inner city, members of the Youth Union cleaned up Nguyen Dinh Chieu, Ban Co and Ly Chinh Thang streets, cleaned graffiti on the walls and trees along Vo Van Tan Street and cleared litter from canals in District 3.

The campaign is due to last until August 15, during which time the youth of the local armed forces will build a street and three concrete bridges in districts 12 and Binh Chanh.