Fearing that many households in Ward 10, Tan Binh District, were at high risk of fire, due to their poorly installed electric wiring and narrow alleyways, young workers from the Communist Union of the Tan Binh Power Company provided free rewiring to 20 poor households.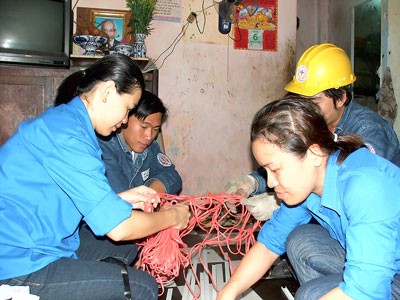 Young people installing new electric wiring (Photo: SGGP)
The program spent over one million dong on each house.
At one house in Tran Van Dang Street, it is just 20 square meters in size but is home to 15 people.
Five small families live in four rooms in the house, which have interlaced electricity wiring.
The union replaced the dangerous wiring for free, though the house owner originally kicked up a fuss as she believed she would have to pay for its installation. 
The secretary patiently explained many times that she would not have to pay during the three hour work.
Not far from the house, some young people spent the morning changing old electricity wiring in the house of an 80 year old, Bui Thi Thom, who lives by herself.
It has been one of her desires for the dangerous wiring to be replaced. 
She got up early in the day to clean and tidy up her house so that workers would be able to easily move about her small home.
On seeing her house with new, bright lights and wires, she came close to tears, thanking the young people.
The program is among 20 practical programs launched as part of the campaign "Young people study and work in accordance with Uncle Ho's ethical model."
The union's secretary, Nguyen Thi Thanh Truc, said, "The program receives support from young communists, as people have realized its practicality and meaning to help poor and old people. Moreover, it helps to reduce fire risks in disadvantaged residential quarters. They [the union's members] will conduct the meaningful missions on Saturdays. Besides the support of the company, everyone saved up for necessary electricity devices to use in the program."
On behalf of residents in the District, Le Ba Thuan, district residential manager, said, "Poor residents have for years worried about the risk of fire due to old electric wiring. The program reflects the care of power sector to its customers"