Police and hospital officials in the northern city of Sulaimaniyah say one person has been killed and 47 wounded during overnight protests.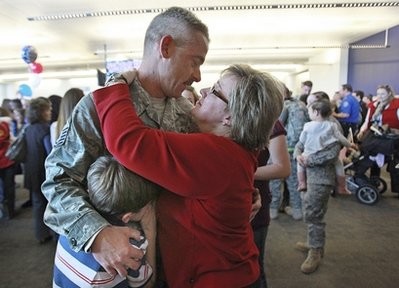 Senior Master Sgt. Brian Eastman is welcomed home by his wife Glenda Eastman, and son Nicholas, 8, at Logan International Airport in Boston, as troops of the Massachusetts Air National Guard 102nd Security Forces Squadron returned from a six-month deployment in Iraq, Sunday, Feb. 20, 2011.
A Sulaimaniyah police official said Monday that around 2,000 people took part in scattered demonstrations around the city, 160 miles (260 kilometers) northeast of Baghdad, late Sunday. Many Kurds are frustrated with the tight grip with which the two ruling parties control the Kurdish autonomous region.
The official said Kurdish security forces opened fire in the air to disperse the crowd.
Hospital officials said around 20 people were shot, including a 17-year-old who later died of his wounds. The others were hit by flying stones.
The officials spoke on condition of anonymity because they are not authorized to speak to the media.