About 10,000 people have fled their homes amid fighting between Muslim rebels and government forces in the southern Philippines, a civil defence official said Tuesday.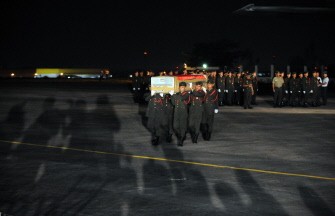 Shadows of photographers and journalists are seen as Philippine military personnel carry a coffin bearing one of the 19 soldiers killed in an ambush by Moro Islamic Liberation Front (MILF) rebels on October 19
The displaced population accounts for about one in seven residents of the towns of Payao, Alicia and Talusan on Mindanao island, home of a decades-old Muslim insurgency, said provincial disaster monitoring chief Adriano Fuego.
The government said the fighting and the evacuations were an offshoot of a military operation against "lawless elements" engaged in kidnappings, but Muslim rebels have alleged their forces have been attacked as well.
"There was advance news, like text messages on the cellphones they (rebels) would attack the municipalities. There were text messages going around saying other municipalities would be attacked," Fuego told AFP.
Residents took refuge with their relatives shortly before Moro Islamic Liberation Front (MILF) forces moved into parts of their towns, preventing potential civilian casualties, he added.
MILF fighters occupied schools in remote areas of the southern island of Mindanao over the weekend, triggering military air strikes and a ground assault on Monday that the government said left two soldiers and six gunmen dead.
The same group of rebels targeted by the air strikes was blamed for ambushes that killed four soldiers and four policemen in the same remote area of Mindanao on Thursday last week.
Military spokesman Lieutenant Colonel Randolph Cabangbang said Tuesday that soldiers were still advancing on the positions of the gunmen in the area.