Over 100 people were killed overnight when fireworks set ablaze a middle-class restaurant in the Russian Ural city of Perm, as officials Saturday ruled out the possibility of a terrorist attack.
"As of now, there are 102 dead and 134 injured," a regional emergency situations ministry spokesman in Perm told AFP by telephone.
Flames went up in the Lame Horse restaurant as some 230 people, mostly employees and their families, were partying inside to celebrate the establishment's seventh anniversary, local police said as quoted by ITAR-TASS, suggesting that the blaze was caused by a fireworks rocket gone wrong.
A police source told RIA Novosti that most victims succumbed to carbon monoxide poisoning in the crush as the panicked crowd rushed to escape.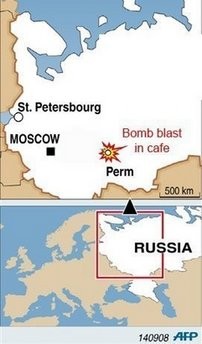 Over 100 people were killed overnight when fireworks set ablaze a middle-class restaurant in the Russian Ural city of Perm
Officials ruled out the possibility that the tragedy was due to a terrorist act as FSB security service experts found no trace of explosive devices or other clues that could support the theory.
"The accident was due to a violation of instructions when launching fireworks," the investigative committee's spokesman Vladimir Markin told Vesti-24 television.
"There is no chance it was a terrorist act, I can say that 100 percent," Markin added.
"There were fireworks launched at the scene, and one hit the plastic ceiling, setting all ablaze. People panicked and succumbed to burns, general crush and gas poisoning," the Perm region's public security minister Igor Orlov was quoted by ITAR-TASS as saying at the scene of the accident.
So-called "cold fireworks", which give off less smoke and heat and so can be used indoors, were apparently the conflagration's cause, as they require careful planning and expert use, investigators said as quoted by RIA Novosti.
However, a police source quoted by the agency said that criminal intent could not be entirely ruled out, with "several details I cannot elaborate on pointing at that version."
The source compared the Perm accident with the 1977 fire at Moscow's titanic Rossiya hotel, which killed 42 people. The Rossiya fire was ruled to be due to negligence, but the version of deliberate arson remained persistent.
A government commission was set up to look into the tragedy, Russian Prime Minister Vladimir Putin's spokesman Dmitry Peskov said as quoted by RIA Novosti.
Two airplanes, equipped to transport people with burns and staffed with doctors, psychologists and rescuers, flew from Moscow to Perm early Saturday, officials said.
Russia's Emergency Situations Minister Sergei Shoigu, Interior Minister Rashid Nurgaliyev and Health Minister Tatyana Golikova arrived in Perm to coordinate efforts.
Golikova and Shoigu "personally visited each hospital" where the injured, of whom 79 are in serious condition, were treated, the health ministry official quoted by RIA Novosti said.
Prosecutor General Yuri Chaika vowed to personally oversee the investigation, RIA Novosti reported.
Hospitals in Moscow were getting ready to receive the injured, the health ministry spokesman said as quoted by RIA Novosti, adding assurances that "medical aid will be given as much as required."
A local health ministry official told RIA Novosti that ten of the worst injured were due to be soon transported "aboard a special airplane to a federal burns treatment center" in Moscow.