More than 100 Nobel laureates have pleaded for a fair trial for five Bulgarian nurses and a Palestinian doctor accused of infecting hundreds of Libyan children with the HIV virus.

Calling for international expert evidence to be allowed in their retrial, the 114 Nobel prize winners for science added their names to an open letter to Libyan leader Moamer Kadhafi, published Friday in the online version of the British science journal Nature.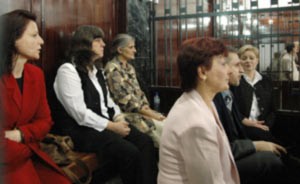 : Palestinian doctor Ashraf Hajjuj and his five co-defendants sit in the defendants dock at the Libyan High Court 31 October 2006 in Tripoli
"Strong scientific evidence is needed to establish the cause of this infection, they said.
"However, independent science-based evidence from international experts has so far not been permitted in court."
The nurses and doctor, who worked at a hospital in the eastern Libyan city of Benghazi, allegedly infected 426 children with HIV, of whom 52 have since died of AIDS.
An initial trial in Benghazi sentenced the defendants to death by firing squad in May 2004, but Libya's supreme court ordered a retrial following an appeal in December 2005.
The retrial which is underway is to resume Saturday.
"This trial is another opportunity for Libya to demonstrate its commitment to recognized values and norms. But so far Libya has failed to follow the norms of international justice in the case of the charged medical workers," the Nobel laureates added.
They demanded that defence lawyers have the right to call and examine witnesses on the health workers' behalf under the same conditions as witnesses called against them.
They also appealed for internationally recognized AIDS experts to examine and testify on the evidence as to the cause of the HIV infections in the children.
Last month, Nature, one of the world's most prestigious science publications, denounced the evidence against the six foreign healthworkers as worthless.
While, an international group of physicians and scientists urged Libya to free the group in a letter published in the October 25 issue of the US journal Science.
Source AFP