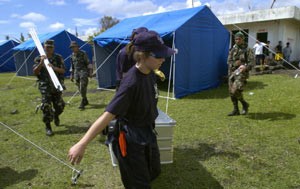 A team of Spanish volunteers set up their mobile hospital at an evacuation center for typhoon victims, located in Padang village, Dec. 05 2006 (AFP Photo)
At least 1,266 people are either dead or missing after rivers of mud and volcanic ash triggered by a typhoon swamped hundreds of villages in the Philippines, civil defence officials said Tuesday.
A civil defense office update put the official death toll at 526 dead, 740 missing, a total of 1,266.
It said more than 1,000 were also injured from the mudslides around Mayon volcano in the eastern region of Bicol that engulfed entire villages.
The mudslides occurred during the height of super typhoon Durian last Thursday when torrential rain mixed with volcanic ash on the slopes of Mayon volcano sent torrents of mud cascading down its slopes.
The government agency said the storm and the mudslides also destroyed or damaged some 230,000 houses.
It put the cost of the damage to buildings, infrastructure and agriculture at 1.2 billion pesos (24.2 million dollars).