At least 13 people were killed and 66 others remain missing after a gas explosion at a coal mine in central China, state media reported, quoting officials and the government work safety watchdog.
The blast took place at about 1:00 am (1700 GMT Monday) at a mine in Pingdingshan city in Henan province, the official Xinhua news agency reported.
A spokesman for the city's Communist Party committee said the Xinhua No. 4 pit was undergoing renovations, and had not yet been authorised by the city government to resume operations.
A total of 93 workers were in the mine at the time of the explosion. Fourteen were able to flee, the spokesman said.
China's coal mines are notoriously dangerous.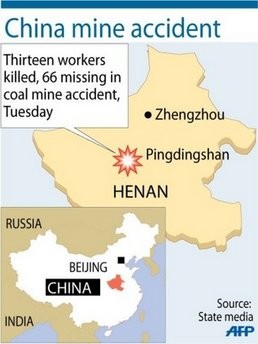 An accident in a Chinese coal mine early Tuesday left 13 people dead and 66 others missing,
Official figures show that more than 3,200 workers died in collieries last year, but independent labour groups say the actual figure could be much higher, as many accidents are covered up in order to avoid costly mine shutdowns.
Coal is the source of about 70 percent of the country's energy.
Luo Lin, chief of China's State Administration of Work Safety, said Saturday that officials would shut down about 1,000 small coal mines this year, in an attempt to improve management and safety.
More than 12,000 small coal mines have been shut down since 2005, according to Xinhua.